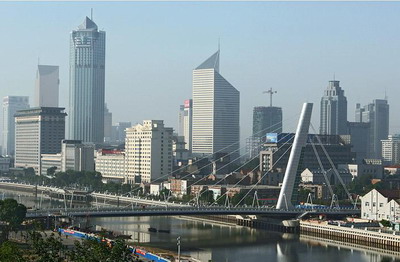 Tianjin, China's best destination for business travelers
Tianjin placed 68th with a score of 25, to be the best destination for business travelers among 7 Chinese mainland cities on the Business Travel ranking released by the Economist Intelligence Unit while Shenzhen came in at 71st, Beijing 77th and Shanghai 79th.
Though there is not a big gap between metropolises on the Chinese mainland concerning the infrastructure category, Tianjin remains most competitive for the relative cheapness of their per diem expenses, experts said. The per diem expenses in Tianjin are 295.54 dollar, cheapest among the 7 cities.
Cities in North America and Australia remain the best destinations for international business travelers.
Vancouver topped the Economist Intelligence Unit's business-travel ranking of 136 world cities for the third year in a row, with Toronto second, Adelaide third, Honolulu fourth and Perth fifth.
New York and London were 62nd and 65th respectively.
The Economist Intelligence Unit's Business Travel index, scores 140 cities as potential venues for business travelers, on both cost-related and environmental factors, such as stability, infrastructure, culture and health care.
These factors are combined to produce a rating of 0-100 where a lower score represents a better business trip destination.
The per diem rate consists of one night's accommodation in a hotel, one two-course meal, one simple meal, two 5-km journeys by taxi, one drink in the hotel bar and one international foreign daily newspaper.
Tianjin has made significant progress in building a livable city in the past 6 years. The city ranked 72 on the Economist Intelligence Unit's 2009 livability rating, part of the Worldwide Cost of Living Survey, which is the best among Chinese mainland cities. But during 2001-03, Tianjin ranked low on China's Business Travel Cities Rank, released by elong.com, a leading online travel service provider.
By Guo Changdong