Introduction of Tai'an
(chinadaily.com.cn) Updated: 2016-09-21
Tai'an is the key producer of plaster, sulphurite and granite, with the most amount of plaster designer. Since there are implications of "as stable as Mount Tai" and "weightier than Mount Tai" in Tai'an granite, it has been employed in many well-known Chinese buildings like Great Hall of the People, Tian'anmen Square and Monument to the People's Heroes at Tian'anmen Square.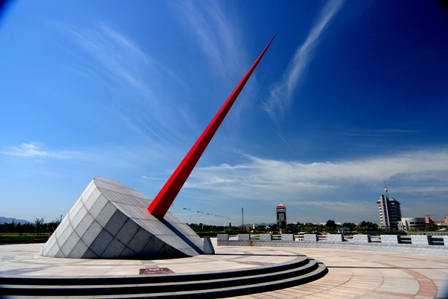 Solarium (by Zhou Gang)
Tai'an has traditional advantage in mechanical and electrical products, textile, chemical industry, building materials, coal, electricity and food industry. Products with high market share include crosslinked cable, diesel engine, weighing apparatus, hemp textile, fibre glass, thistle board and Taishan Tequ wines. Four stocks including Taishan Petroleum, Taishan Tourism and Lu Run Trading Company have listed on stock markets of Shanghai and Shenzhen. With healthy performance, all of them are blue chip popular in stockholders.
Crape myrtle, a kind of sheepberry is the city flower of Tai'an. There is a hundred-year-old crape myrtle tree in the yard of Arhat Cliff (Luohanya), which is full of antiquity with its trunks curling like dragon horns. From summer to autumn, Crape myrtle trees are in full blossom. Rustling and flickering tenderly in soft breeze, there flame-like flowers are gorgeous and charming to all. In recent years, Tai'an municipal government has planted crape myrtle all around the city.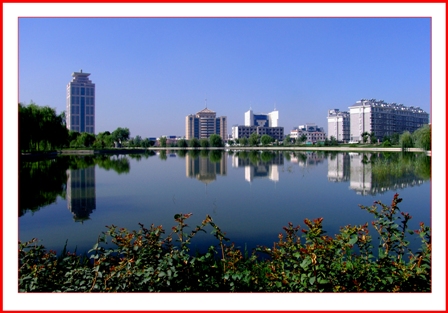 (by Yao Qunsheng)
Sophora japonica Linn, also known as Chinese scholar tree, is the city tree of Tai'an. It is a kind of deciduous trees in the pea family. Sophora japonica Linn is highly adaptive and valued for its longevity and ornamental value. There are 42 more than 100 years old Sophora japonica Linn on Mount Tai, along with the "Tang Chinese Scholar-tree" in Dai Temple and other three ones are the most famous.
China International Mount Tai Climbing Festival in early September has been a new holiday in Tai'an and a golden bridge connecting people in this city and friends from all over the world.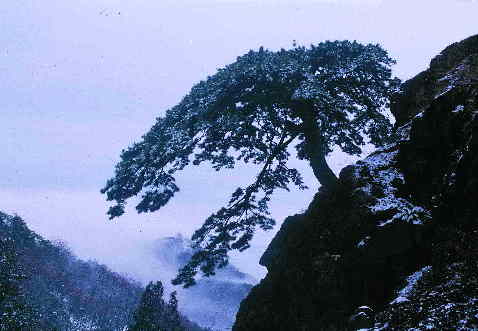 Welcoming Guests (Yingke) Pine
Since the beginning of the Reform and Opening in 1978, Tai'an has fully implemented the economical globalization strategy and paid close attention to the optimization of the investment environment, establishing customhouse, examination and approval center, foreign investment center and other institutions for better service for investors. The improvement in the investment environment has attracted one after another solid investment and advanced technology from home and abroad. Tai'an has set up trade relations with 84 countries and regions, friendly sister cities relationship and friendly co-operative relations with above 30 countries and regions. Since 1987, China International Mount Tai Climbing Festival has become the window of Tai'an open to the outside world.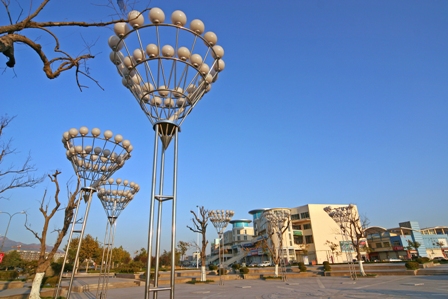 Guangcai Market (by Zhou Gang)
In 2015 Tai'an's GDP (gross domestic product) increased to 324 billion yuan ($46.82 billion), a year-on-year increase of nearly 8 percent. As for the value of industrial output, the proportion of the high-tech industry in above-scale industrial output (industrial companies with an annual turnover of at least 20 million yuan) increased by 1.3 percent compared with 2014.
Burgeoning e-commerce brought in a turnover of some 60 billion yuan, up by 25 percent year on year. Tourism continued to be a pillar of the local economy. The city received 13.85 million tourists, earning a total tourism income of 9.69 billion yuan, up by 9.5 percent year-on-year.
Tai'an launched 582 domestic investment attraction projects in 2015 and absorbed 22.26 billion yuan, crucial to the transformation and upgrading of the local industrial structure.
Tai'an's foreign investment, in actual use, reached $490 million in 2015, increasing by 18.6 percent.
The total volume of imports and exports stood at $2.4 billion, including $1.85 billion in exports alone. 15 new overseas investment entities came to Tai'an in 2015 with a recorded foreign investment volume of $171 million, up by 5.1 percent.