SXU research honored at State Science and Technology Awards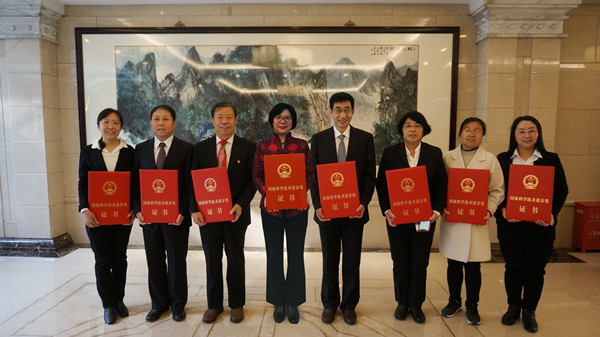 Shanxi University's winners at the 2020 State Science and Technology Awards pose for group photo in Beijing, on Nov 3. [Photo/Shanxi University]
Two scientific research achievements made at Shanxi University (SXU) recently won honors at the 2020 State Science and Technology Awards, which were conferred at an annual ceremony in honor of distinguished scientists, engineers and research achievements in the national capital of Beijing.
One of the achievements from SXU – located in Taiyuan, capital of North China's Shanxi province – is a quantum control project based on ultra-cold Fermi gas. Headed up by by Zhang Jing, director of Institute of Optoelectronics at SXU, it won second place in the 2020 State Natural Science Awards.
Due to its unique macroscopic quantum coherence and precise artificial controllability, ultra-cold atomic gas is of great significance to research on quantum materials designs and preparations, as well as quantum precision measurements.
The project led by Zhang and his research team has established China's first ultra-cold fermion experimental platform and realized the quantum degeneracy of the Bose Fermi gas mixture.
The research content of the project has laid an important foundation for simulating topological matter, preparing and manipulating new topological quantum states in the ultra-cold atomic system – leading to a large number of related theoretical and experimental studies being conducted internationally.
The other award winner from SXU was a project involving key technologies and applications for the clean and efficient utilization of coal waste gangue and slime. Headed by Cheng Fangqin, director of Institute of Resources and Environment Engineering, it won second place in the State Scientific and Technological Progress Awards.
The project led by Cheng and her research team has realized the clean combustion of coal gangue and slime for power generation, the clean and safe resource utilization of coal slime, as well as the bulk utilization and harmless disposal of coal gangue and fly ash.
The technologies and applications of the project have helped consume some 220 million metric tons of solid waste, reduce sulfur dioxide emissions by 2.3 million tons and nitrogen oxides by about 50,000 tons. The project has generated sales of 11 billion yuan ($1.72 billion) and profits and tax of 3.86 billion yuan.
The project has advanced technological progress in the coal power generation industry, improved the environmental air quality of the Beijing-Tianjin-Hebei region, and promoted the clean, efficient and full utilization of coal-based solid waste.
Once the project's technologies and applications are widely disseminated, it will have a positive effect on the sustainable development of regions that are overly dependent on resources, and on the realization of China's carbon peak and carbon neutrality goals.
Confucius Institutes

The Confucius Institutes are set up worldwide by the Chinese Language Council International to promote Chinese language and culture.

Enrollment of Foreign Students in Shanxi University

Join us and explore our wide range of study programs and enjoy a first class educational experience that makes you a part of a lively global community.