SXU researchers make progress in cascade catalyst design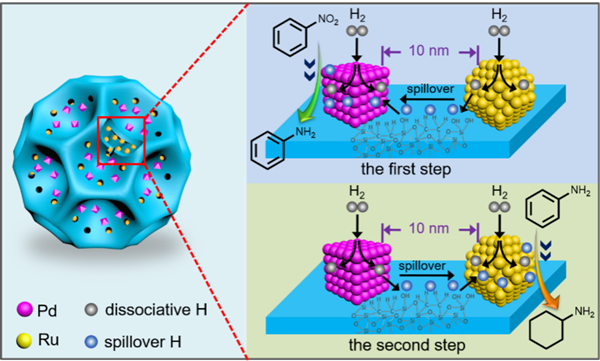 A diagram in the research article by researchers from the School of Chemistry and Chemical Engineering at Shanxi University [Photo/sxu.edu.cn]
Researchers from the School of Chemistry and Chemical Engineering at Shanxi University (SXU) recently published their research achievements in Nature Communications, a peer-reviewed, open access and scientific multidisciplinary journal.
The research article, entitled Dual metal nanoparticles within multicompartmentalized mesoporousorganosilicas for efficient sequential hydrogenation, was jointly written by primary author Zou Houbing from the school, and co-authors Yang Hengquan from the school and Wang Runwei from Jilin University.
According to the article, the research team developed an efficient dual metal cascade catalyst and proposed a new mechanism for neighboring metal-assisted hydrogenation by controlling the localization of multiple metal nanoparticles on a single support.
The research not only provides a new idea for designing efficient cascade catalysts, but has also puts forward a new understanding of the working mechanisms of cascade catalysts and a new perspective on the development of efficient cascade catalytic processes.
Confucius Institutes

The Confucius Institutes are set up worldwide by the Chinese Language Council International to promote Chinese language and culture.

Enrollment of Foreign Students in Shanxi University

Join us and explore our wide range of study programs and enjoy a first class educational experience that makes you a part of a lively global community.