Shanxi University marks Party anniversary with art exhibition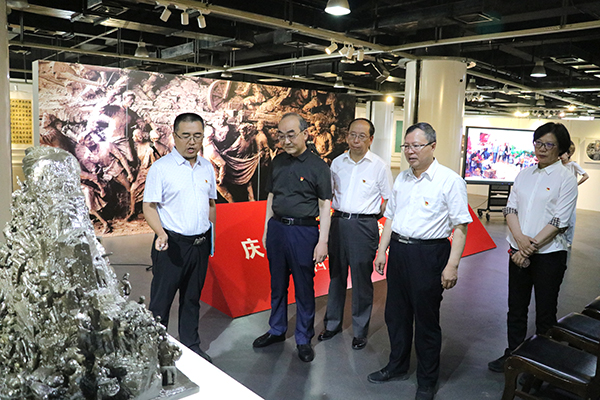 Officials visit the exhibition of artwork by teachers and students from the Academy of Fine Arts at Shanxi University on June 25. The exhibits cover themes ranging from revolutionary history to the beautiful countryside and a harmonious society. [Photo/sxu.edu.cn]
An exhibition of artwork by teachers and students from the Academy of Fine Arts at Shanxi University in North China's Shanxi province opened at the university on June 25.
The exhibition celebrates the 100th anniversary of the founding of the Communist Party of China (CPC).
A total of 100 pieces of artwork, including Chinese paintings, calligraphy, oil paintings, prints and sculptures, vividly showcase the history and contributions of the CPC to China's development. They express teachers' and students' loyalty to the Party and love for the motherland.
Among them, a sculpture called The Great Beginning will be shown to the public at Wuyi Square in the provincial capital of Taiyuan in October, becoming a red cultural landmark in the city.
In addition, some of the exhibits also reflect the historical heritage of Shanxi University and highlight the province's regional characteristics, showcasing creators' strong love for their hometowns and the alma mater.
Confucius Institutes

The Confucius Institutes are set up worldwide by the Chinese Language Council International to promote Chinese language and culture.

Enrollment of Foreign Students in Shanxi University

Join us and explore our wide range of study programs and enjoy a first class educational experience that makes you a part of a lively global community.