Shanxi Institute for Finance Research launched at SXU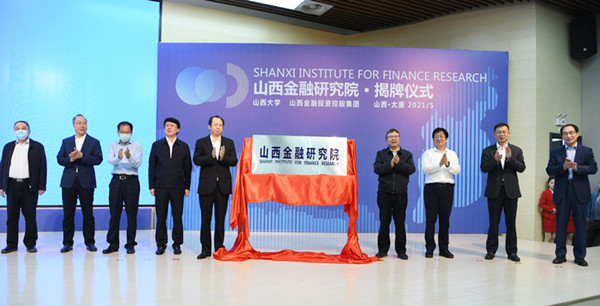 A nameplate unveiling ceremony for the Shanxi Institute for Finance Research takes place at Shanxi University on May 18. [Photo/sxu.edu.cn]
The Shanxi Institute for Finance Research was founded at Shanxi University (SXU) on May 18.
The institute is a high-end financial research exchange platform jointly established by the university and Shanxi Financial Investment Holding Group Co and strongly supported by Shanxi's provincial authorities.
The institute's establishment is a major measure, helping SXU's financial discipline to integrate into the development of Shanxi's financial industry. It is a new platform to promote SXU's level of talent training and scientific research innovation in finance, said Huang Guitian, president of the university.
The two sides have reached a consensus on the joint construction of a research and exchange platform, scientific research projects, promotion of tech achievement transformation, personnel training, corporate consulting and think tank construction.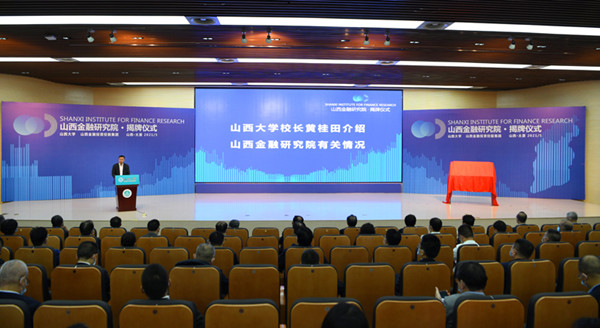 Huang Guitian, president of the university, addresses the ceremony on May 18. [Photo/sxu.edu.cn]
The Shanxi Institute for Finance Research will carry out work across five main categories.
It will integrate the scientific research teams and platforms of both sides to jointly create an innovation team, an innovation center, a key laboratory and a key research base for humanities and social sciences.
Combining the superior resources of both sides, the institute will set up a scientific research team, to jointly apply for major national and provincial scientific research projects. It will also carry out application-based basic research and financial tool R&D and promotion.
The institute plans to conduct research on Shanxi's financial transformation and high-quality development, promote the transformation of scientific and technological achievements and the implementation of decision-making suggestions. It will also provide scientific and technological support for the construction of a green financial system in Shanxi.
In response to the problems encountered during the development of Shanxi's financial enterprises, the institute will provide corporate diagnosis and consulting services, publish an annual blue book for Shanxi's financial development and hold high-end talent training activities and summit forums in the financial field. The aim is to provide decision-making support for the local government and enterprises.
In addition, the institute will carry out the construction of various talent training centers such as the scientific research and teaching internship center and postdoctoral workstations.
Confucius Institutes

The Confucius Institutes are set up worldwide by the Chinese Language Council International to promote Chinese language and culture.

Enrollment of Foreign Students in Shanxi University

Join us and explore our wide range of study programs and enjoy a first class educational experience that makes you a part of a lively global community.