SXU recognized nationally for research achievement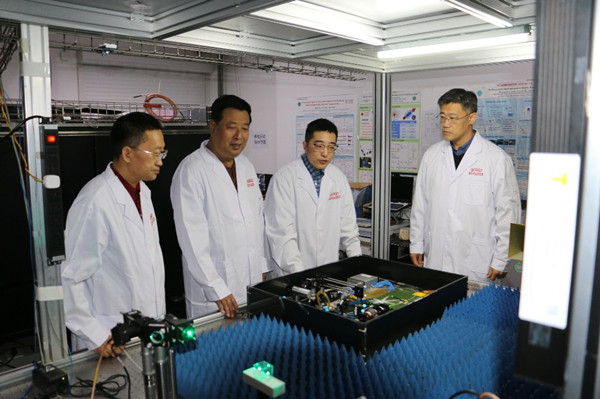 Researchers at the Institute of Laser Spectroscopy at SXU [Photo/sxu.edu.cn]
A scientific research achievement of Shanxi University (SXU) was recently selected by the Science and Technology Commission of the Ministry of Education as one of the 10 major scientific and technological triumphs of Chinese universities in 2020.
The research achievement that made the list was the precise measurement of microwave electric fields based on Rydberg atoms and was completed by researchers at the university's Institute of Laser Spectroscopy.
The research team realized the atomic superheterodyne receiver based on microwave-dressed Rydberg spectroscopy for the first time ever.
The university's research and findings will have an impact in fields such as radio astronomy, radar technology and metrology.
The 10 major scientific and technological achievements of Chinese universities have been selected by the Ministry of Education since 1998. The list aims to promote the major scientific and technological achievements of Chinese colleges and universities, show the strength of colleges and universities in scientific and technological innovation, and improve the overall level of science and technology in colleges and universities in the country.
It is the first time that SXU has won this honor and it fully reflects the further improvement of the university's disciplines and technological innovation capabilities.
Confucius Institutes

The Confucius Institutes are set up worldwide by the Chinese Language Council International to promote Chinese language and culture.

Enrollment of Foreign Students in Shanxi University

Join us and explore our wide range of study programs and enjoy a first class educational experience that makes you a part of a lively global community.