SXU releases breakthrough research on higher-order topological semimetal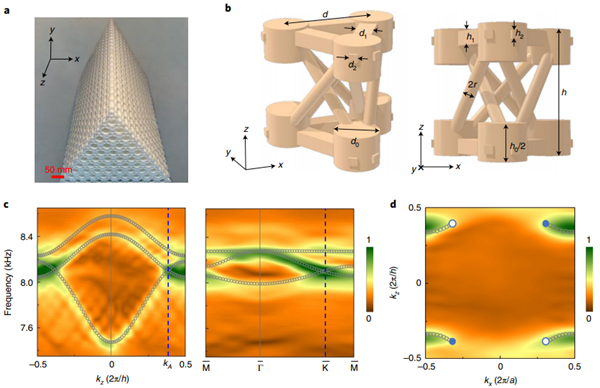 A diagram in the article showcases research by the Institute of Laser Spectroscopy at Shanxi University and Professor Liu Zhengyou at Wuhan University. [Photo/sxu.edu.cn]
A team led by the Institute of Laser Spectroscopy at Shanxi University (SXU) and Professor Liu Zhengyou at Wuhan University has recently made breakthroughs in exploring novel topological states of matter.
Their research article, titled Higher-order topological semimetal in acoustic crystals, was published on Feb 15 in Nature Materials, a top journal in the materials field published by Springer Nature.
The article showed that the research team confirmed the existence of higher-order topological semimetal for the first time in history and observed its characteristic hinge states through experiments.
The team has further expanded the understanding of topological states of matter, which is of important scientific significance. It also paved the way for the design of new low-energy topological electronic materials or devices.
Confucius Institutes

The Confucius Institutes are set up worldwide by the Chinese Language Council International to promote Chinese language and culture.

Enrollment of Foreign Students in Shanxi University

Join us and explore our wide range of study programs and enjoy a first class educational experience that makes you a part of a lively global community.