Shanxi University organizes academic event on AI, big data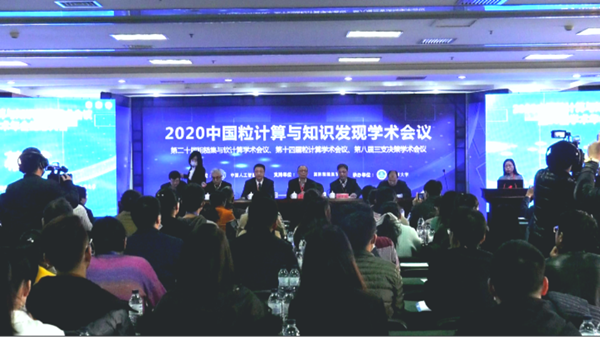 CGCKD 2020 is held in Taiyuan, capital of North China's Shanxi province. [Photo/sxu.edu.cn]
The 2020 China Granular Computing and Knowledge Discovery Conference (CGCKD 2020) was recently held in Taiyuan, capital city of North China's Shanxi province, from Oct 30 to Nov 1.
Hosted by the Chinese Association for Artificial Intelligence and organized by Shanxi University, CGCKD 2020 attracted the participation of more than 400 experts and academics from research institutions and universities at home and abroad, with some 18,000 people watching the conference live online.
The event focused on the basic theories and core technologies of artificial intelligence (AI) and big data, such as rough set theory and applications, machine learning and data mining, granular computing, and three-way decisions.
Academicians and professors from the Chinese Academy of Engineering, Nanjing University, Shanxi University, Chongqing University of Posts and Telecommunications, Tongji University and Canada's University of Regina gave special lectures at the conference.
The event had six special theme forums and young scholars' forums and consisted of 41 lectures.
It strengthened academic exchanges among domestic scholars in related fields, as well as promoted Shanxi University, Shanxi and even China's scientific research on AI and big data.
Confucius Institutes

The Confucius Institutes are set up worldwide by the Chinese Language Council International to promote Chinese language and culture.

Enrollment of Foreign Students in Shanxi University

Join us and explore our wide range of study programs and enjoy a first class educational experience that makes you a part of a lively global community.