SXU library wins national recognition for reading promotion
A student is reading in the Library of Shanxi University. [Photo/sxu.edu.cn]
The Library of Shanxi University (SXU) was recently awarded the title of Nationwide Reading Demonstration Base by the Library Society of China. The award is one of the highest honors that libraries in China can attain for promoting reading.
Only libraries that have been praised for their reading promotion work on two separate occasions by the Library Society of China can be selected as a Nationwide Reading Demonstration Base. The library at SXU was voted an "advanced library for mass reading" in both 2017 and 2018.
This time, SXU's library was the only one in Shanxi province to win the honor.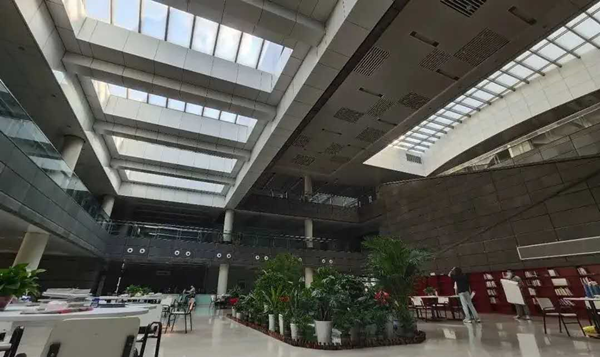 The lobby of the Library of Shanxi University [Photo/sxu.edu.cn]
In recent years, the university's library has combined traditional reading with new media technologies to promote reading among the school's faculty and students. It has launched and carried out various reading activities, including reading clubs, book exhibitions and classic recitation contests, among other initiatives. The library has also promoted electronic reading resources and developed campus culture through various online and offline platforms.
Currently, the library provides offline services for 94 hours each week, and its electronic resources are available 24 hours a day. A virtual library consulting service platform has also been launched on WeChat to facilitate reading services.
The library has also carried out surveys on readers' needs and held a series of information literacy education lectures and courses. Apart from meeting general needs, the educational facility has paid attention to the development demands of the school's key construction disciplines.
It has also expanded the library service space, optimized the service environment, added reading areas and provided creative content to develop campus culture.
Confucius Institutes

The Confucius Institutes are set up worldwide by the Chinese Language Council International to promote Chinese language and culture.

Enrollment of Foreign Students in Shanxi University

Join us and explore our wide range of study programs and enjoy a first class educational experience that makes you a part of a lively global community.