Shanxi Qinxin Energy Group donates for SXU's development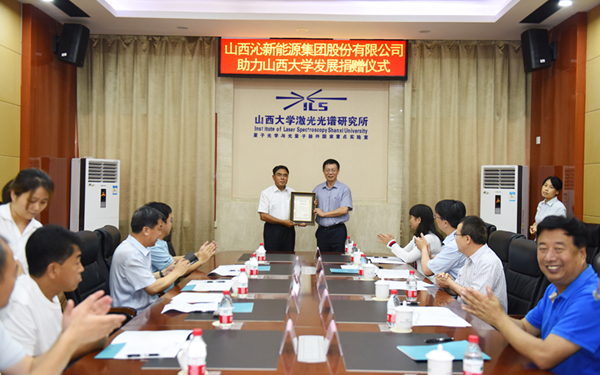 A donation ceremony for Shanxi Qinxin Energy Group and Shanxi University is held at the university on July 5. [Photo/sxu.edu.cn]
A donation ceremony for Shanxi Qinxin Energy Group Co and Shanxi University (SXU) was held on July 5 at the university, located in Taiyuan, capital of North China's Shanxi province.
Established in 1995, Shanxi Qinxin Energy Group manufactures and processes coal products. It sells coal, washed coal, coke, metallurgical coke and foundry coke and is one of the top 100 Shanxi private companies.
In 2017, the company donated 1 million yuan ($142,889) to the university marking the university's 115th anniversary.
The company donated another 1 million yuan to the university this time to set up a foundation for the development of the university's Institute of Laser Spectroscopy.
The funds will be used to support laser spectroscopy research and teaching and encourage teachers and students to achieve more landmark results that boost international development, meet national defense needs and serve local economic development.
Huang Guitian, president of Shanxi University, welcomed the company delegation and gave a talk on the university's history and current conditions.
He expressed appreciation and gratitude to the company for its support for the development of Shanxi University and education in Shanxi province.
Confucius Institutes

The Confucius Institutes are set up worldwide by the Chinese Language Council International to promote Chinese language and culture.

Enrollment of Foreign Students in Shanxi University

Join us and explore our wide range of study programs and enjoy a first class educational experience that makes you a part of a lively global community.