SXU achieves breakthrough in detection of microwave electric fields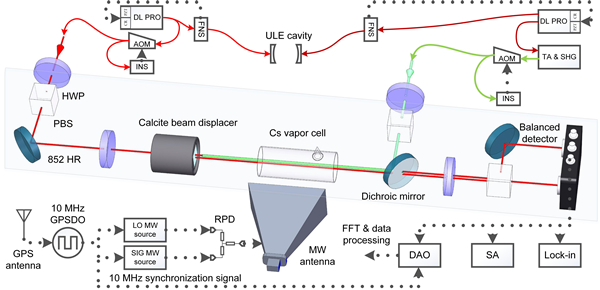 A diagram showcasing Shanxi University's research on atomic superheterodyne receiver based on microwave-dressed Rydberg spectroscopy [Photo/sxu.edu.cn]
Researchers at the Institute of Laser Spectroscopy at Shanxi University (SXU) on June 1 published their findings on highly sensitive phases and frequency-resolved detection of microwave electric fields in Nature Physics, a monthly British scientific journal.
The university's research team demonstrated a conceptually new microwave electric field sensor – the Rydberg-atom superheterodyne receiver, or superhet, in their research article.
This sensor allows the most sensitive and International System of Units-traceable microwave phase sensitive measurements so far in the world.
The university's research and findings will have an impact in the fields such as radio astronomy, radar technology and metrology.
For more information
https://www.nature.com/articles/s41567-020-0918-5
Confucius Institutes

The Confucius Institutes are set up worldwide by the Chinese Language Council International to promote Chinese language and culture.

Enrollment of Foreign Students in Shanxi University

Join us and explore our wide range of study programs and enjoy a first class educational experience that makes you a part of a lively global community.