Shanxi University starts spring semester in 2020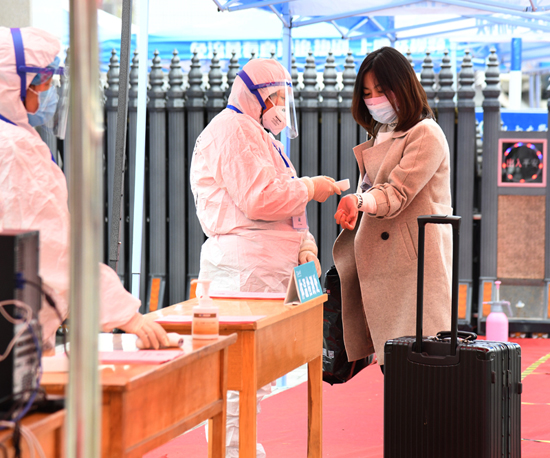 Staff members of Shanxi University measure a student's temperature before she enters the campus, on April 10. [Photo/sxu.edu.cn]
Shanxi University (SXU) in Taiyuan city -- as one of the first batch of colleges and universities in North China's Shanxi province to start its 2020 spring semester -- welcomed its 800 students who will graduate this year on April 10, according to SXU officials.
Due to the influence of the novel coronavirus pneumonia epidemic, SXU collected detailed information on the specific times and train numbers of students returning to campus and sent them a guidebook before they were back.
It also arranged pick-ups at Taiyuan South Railway Station, Taiyuan Railway Station, Jiannan Coach Station in Taiyuan city.
All students returning to the university must apply for personal health codes through the Alipay app and enter the campus with the codes.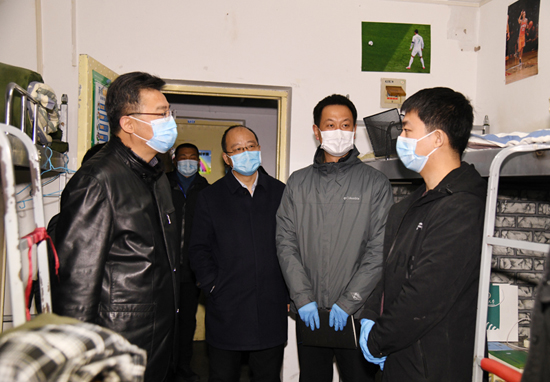 Officials of Shanxi University inspect a students' dormitory on April 10. [Photo/sxu.edu.cn]
There are stations for information registration, temperature measurements and temporary medical observation next to the university gate for all entrants. Anyone who has suspected symptoms 14 days before returning to school shall not return to school, according to the university officials.
During the spring semester, the university will implement a closed campus management to prevent and control the epidemic.
Measures such as health management, decentralized accommodation, separate dining, small class sizes and regular disinfection and sterilization will be taken to protect faculty members and students and ensure their normal accommodation, catering, studies and relaxation.
Confucius Institutes

The Confucius Institutes are set up worldwide by the Chinese Language Council International to promote Chinese language and culture.

Enrollment of Foreign Students in Shanxi University

Join us and explore our wide range of study programs and enjoy a first class educational experience that makes you a part of a lively global community.