SXU to integrate philosophy with cultural tourism
Shanxi University held a forum on the cultural tourism industry and the strategies of dominant philosophical groups on April 12 in an attempt to use its philosophy disciplines to aid in industrial development and further business-university-institute cooperation.
Experts and businessmen from famous domestic companies delivered speeches on tourism, the protection and promotion of cultural relics, and rural construction, and put forward suggestions on how Shanxi University's philosophy disciplines could help develop cultural tourism in Shanxi province.
The forum saw partnership agreements on the development of local cultural tourism signed between the university and the Shanxi Provincial Department of Culture and Tourism, the Shanxi Cultural Relics Bureau, the Shanxi Culture and Tourism Group, Jiangsu Yuanjian Holdings Group, Zhejiang Zhuochuang Rural Construction Group, and Shanxi Xitang Culture Promotion Co.
During the forum, guests and university officials celebrated the establishment of the Shanxi Cultural Tourism Industry Institute and the Sanjin Collaborative Innovation Center of the Culture and Tourism Industries. The two platforms will facilitate business-university cooperation in culture and tourism.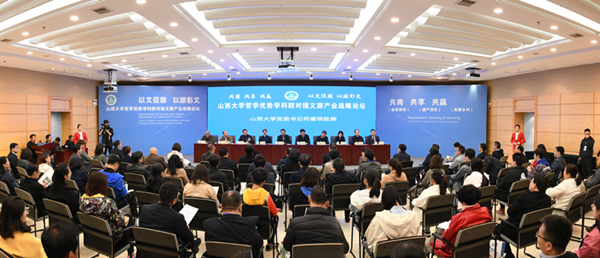 Shanxi University holds a forum on the cultural tourism industry and discusses possible strategies for dominant philosophy groups on April 12. [Photo/sxu.edu.cn]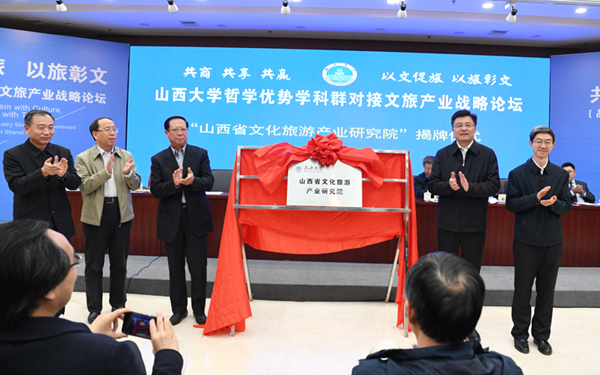 An unveiling ceremony for the Shanxi Cultural Tourism Industry Institute is held during the forum at Shanxi University on April 12. [Photo/sxu.edu.cn]
Confucius Institutes

The Confucius Institutes are set up worldwide by the Chinese Language Council International to promote Chinese language and culture.

Enrollment of Foreign Students in Shanxi University

Join us and explore our wide range of study programs and enjoy a first class educational experience that makes you a part of a lively global community.