Art school reforms teaching scheme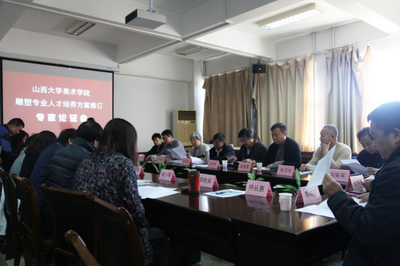 Experts discuss the teaching scheme at the conference on March 9. [Photo/sxu.edu.cn]
Shanxi University's academy of fine arts held a conference on March 9 to discuss a teaching scheme reform to the sculpture department.
After the new scheme takes effect, the sculpture students will choose their research direction –– either traditional sculptures, or materials and technologies of sculptures –– during the second school year and enter the corresponding studio for further study.
Students of traditional sculpture will focus on theoretical research which includes the history of art, restoration and protection. The rich cultural heritage of Shanxi province including fresco paintings and temples will also be a part of the curriculum.
Materials and technologies used for sculptures will make full use of modern technologies, such as optics, chemistry, computer science and big data, to realize the best combination of traditional art and modern technology.
A panel of experts attended the conference and gave their suggestions on improvements to the scheme.
This reform is a proactive innovation in the art school. It will promote resource integration and enhance teaching quality.
Confucius Institutes

The Confucius Institutes are set up worldwide by the Chinese Language Council International to promote Chinese language and culture.

Enrollment of Foreign Students in Shanxi University

Join us and explore our wide range of study programs and enjoy a first class educational experience that makes you a part of a lively global community.