SXU professor exhibits Chinese art in Germany
To celebrate the 45th anniversary of Sino-German friendship and further art exchanges, Liang Yonggang from Shanxi was invited to hold an art exhibition in Berlin from Feb 10 to 19.
A graduate from the Academy Of Fine Arts at Shanxi University, Liang combines traditional Chinese drawing with modern fine arts to create his ink and oil paintings, which are influenced by western civilization and embody the inclusiveness and openness of Chinese culture.
Most of the exhibits are abstract works, reflecting his understanding of the nature of things.
"The traditional Chinese art is rooted in Liang's abstract pieces. The lines and color remind me of Chinese ceramics," said Beate Reifenscheid, curator of the German branch of the International Council of Museums and organizer of Liang's exhibition.
Fan Dian, president of China Central Academy of Fine arts, claimed that the creations of Liang Yonggang show his exploration of art in different cultures.
Liang hoped that the exhibition will promote interaction and mutual learning between Chinese and German artists, and boost art in both countries.
So far, the exhibition has attracted many residents in Berlin and operators of private galleries across Germany.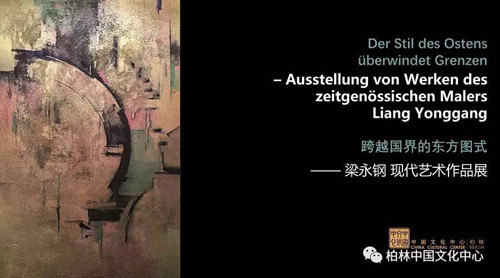 A poster advertises Liang Yonggang's modern art exhibition held from Feb 10 to 19. [Photo/sxu.edu.cn]
Confucius Institutes

The Confucius Institutes are set up worldwide by the Chinese Language Council International to promote Chinese language and culture.

Enrollment of Foreign Students in Shanxi University

Join us and explore our wide range of study programs and enjoy a first class educational experience that makes you a part of a lively global community.