Shanxi University beach volleyball teams net good results
Following in the footsteps of the Chinese Olympic gold medal winning women's volleyball team at the Rio Olympics, Shanxi University's women's beach volleyball team took home third place in the physical institution category of China's 12th Beach Volleyball tournament recently.
Another Shanxi University team also picked up a fourth place in the highly-ranked group B.
The event, held at Inner Mongolia's Resonant Sand Gorge, took place over six exciting days of competition organized by the Federation of University Sports in China. It attracted some 120 volleyball teams from 55 universities from across the country.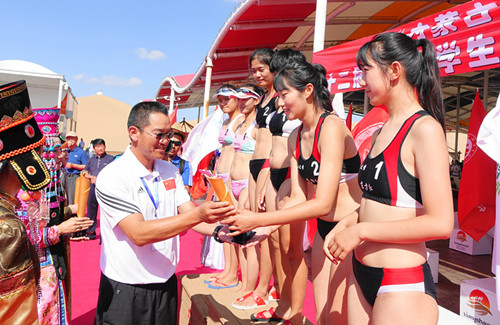 Members of Shanxi University's women's beach volleyball team receive their awards.
Confucius Institutes

The Confucius Institutes are set up worldwide by the Chinese Language Council International to promote Chinese language and culture.

Enrollment of Foreign Students in Shanxi University

Join us and explore our wide range of study programs and enjoy a first class educational experience that makes you a part of a lively global community.