Shanxi University wins prize in national piano contest
Wang Jiawen from Shanxi University won the third-place prize for the professional group in the second Yamaha China Piano Competition held at the Zhejiang Conservatory of Music on May 1.
Wang has studied piano at the university's school of music since 2012.
This national piano contest, held every three years, represents the highest level of piano skills in China. It invites renowned piano education specialists as judges and aims at creating a platform for Chinese piano learners to exchange and communicate.
This year, it attracted more than 20,000 players who had to compete through two rounds to enter the final competition.
With the careful instructions of Cao Yi, a teacher from the school of music, Wang entered the final round with 11 other participants.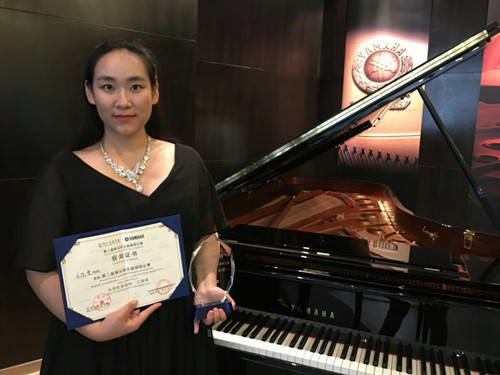 Wang Jiawen, a senior student from the school of music of Shanxi University, holds her certificate and trophy for the third-place prize in the professional group of the second Yamaha China Piano Competition.
Confucius Institutes

The Confucius Institutes are set up worldwide by the Chinese Language Council International to promote Chinese language and culture.

Enrollment of Foreign Students in Shanxi University

Join us and explore our wide range of study programs and enjoy a first class educational experience that makes you a part of a lively global community.