School of Philosophy and Sociology
The predecessor of the School of Philosophy and Sociology of Shanxi University is the Philosophy Faculty established in 1980, which changed to its current name in 2003. The school has 50 teaching and administrative staffs at the moment, including seven professors and ten associate professors. It's in possession of primary disciplines entitled for conferring a Doctorate and Master's degree in Philosophy and primary discipline entitled for conferring a Master's degree in Demonology and Sociology, and offers three Bachelor's degree programs of Philosophy, Sociology and Social Work. The school has experienced steady great-leap-forward development over the past three decades, and has developed a great number of talented people of different levels with junior college, Bachelor's and Master's degrees and Doctorates. Those talented people across China have gradually become the backbones of different sectors, particularly in institutions of higher learning, academic research institutes, Party and government organizations as well as enterprises and public institutions.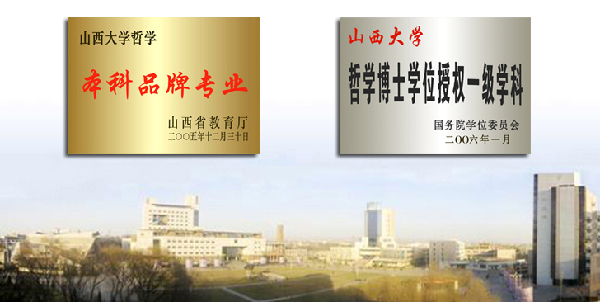 Awards of the School of Philosophy and Sociology
After entering the new century, the school has conducted over 120 different scientific research projects, including over 30 national-level projects, and has received scientific research funding of over 6 million yuan. It has published over 100 academic monographs, translated works and teaching materials along with more than 600 papers, and over 200 of them were published in Chinese Social Sciences, Philosophical Researches, Philosophical Trends, Studies in Dialectics of Nature, Studies in Philosophy of Science and Technology and other key journals. It has also received over 40 awards for different scientific researches.
For over 30 years, the school has followed the developing law of higher education, and has taken to serving local economic and social development of Shanxi as its fundamental purpose, and making the development of quality, innovative talented people as its highest objective. It has gradually developed a modern, advanced and scientific professional curriculum, and built over 20 practical teaching bases.
The school has been actively introducing advanced teaching material at home and abroad, and supporting the development of classical courses, bilingual courses, practical courses and excellent courses, among which, the courses of "Principles of Marxist Philosophy" and "Logic" have been awarded as "Excellent Courses of Shanxi Province". Investigation and research reports made by the school's students have won the first-place prize in the National University Student "Challenge Cup" many times. The journal of Owl, founded by the students in the school, which boasts of unique characteristics and high quality, provides them with a platform for scientific research practices.
Confucius Institutes

The Confucius Institutes are set up worldwide by the Chinese Language Council International to promote Chinese language and culture.

Enrollment of Foreign Students in Shanxi University

Join us and explore our wide range of study programs and enjoy a first class educational experience that makes you a part of a lively global community.