School of Physical Education
The School of Physical Education of Shanxi University is among the first of 16 physical education faculties and departments established in China. So far, the school has one Doctorate program, four Master's degree programs and three Bachelor's degree programs. It has also made remarkable achievements in talent development, scientific researches, teaching force, external exchanges, operating conditions, sports standard and other aspects. The school ranked in first-place of the total group score at the "National Basic Skill Contest for Students Majoring in Physical Education" in 1999 and received the title of "Advanced Unit for Teaching" from Shanxi provincial education department. At the 6th Games for University Students in 2000, the school won 4 gold medals, 2 silver medals and 7 bronze medals, making it to the final Top Eight in the country, and won the "President's Cup".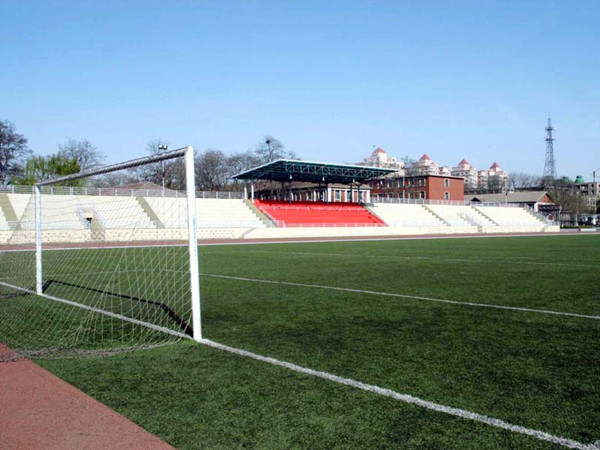 Stadium of Shanxi University
The school has a Physical Education Faculty, Sports Faculty, Sports Sociology Faculty, Teaching Department and Postgraduate Department of Public Physical Education, as well as a Traditional Ethnic Sports Research Institute. It has 96 teaching and administrative staff members, including 11 professors, 25 associate professors, 3 doctoral advisors, 14 postgraduate advisors and 13 national referees. Lecturers of the school have conducted a total of 36 different scientific research projects at the provincial and ministry level with over 1 million yuan of funds in total, taken charge of and took part in the compilation of 25 national teaching materials, and has published over 400 academic papers. It's among similar physical education schools and faculties in China characterized by rapid development of disciplines, excellent infrastructures and relatively high professional standards.
Based on its overall advantages in teaching, training and scientific research, the School of Physical Education of Shanxi University has been continuously deepening its reform in education and teaching. It has emphasized on building its disciplines and teaching force, and has attached importance to the development of the students' spirit of innovation and practical ability for over the past five decades. It has developed over 5,000 different special talents in physical education for the country, which has allowed it to become an integral backbone of Shanxi's physical education undertakings. More than 100 of them have been admitted for a Master's degree, while over 30 of them have been admitted to key academies in the US, Japan, Germany and China for a Doctorate degree. Some of them have already become well-known experts and scholars at home and abroad.
Confucius Institutes

The Confucius Institutes are set up worldwide by the Chinese Language Council International to promote Chinese language and culture.

Enrollment of Foreign Students in Shanxi University

Join us and explore our wide range of study programs and enjoy a first class educational experience that makes you a part of a lively global community.