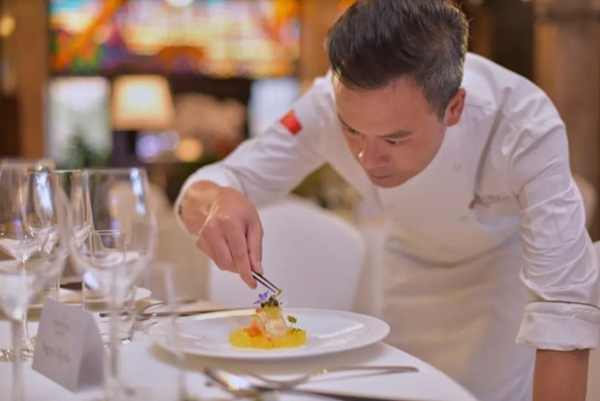 Lin Shuwei, a star chef who previously cooked for state banquets, knows how to make various types of cuisine thanks to his extensive experience cooking across China. [Photo/WeChat account: sheshanlvyoutopnews]
The InterContinental Shanghai Wonderland, a luxury hotel in the Shanghai Sheshan National Tourist Resort, recently unveiled a list of Christmas treats.
On Dec 24, Christmas Eve, Lin Shuwei, a star chef who makes Chinese food at an overseas pop-up restaurant on the reality show Chinese Restaurant, will cook Christmas dinner for guests at the hotel's grand banquet hall.
Lin, who previously cooked for state banquets, will work with Rong Jingchang, executive chef of the hotel's Chinese restaurant, to make the dinner. The price per seat is set at 1,188 yuan ($181.76).
The hotel's Yuan restaurant will offer up a Christmas buffet that includes more than 100 select delicacies such as traditional roast turkey, secret-recipe duck liver, mulled wine and champagne.
The Christmas buffet will run from 17:30 to 21:30 on Dec 24 at a cost of 888 yuan per person. From Dec 25 to 27, lunch and dinner buffets will be offered from 12:00 to 14:30 and 17:30-21:30, respectively, at a cost 688 yuan per person.
Those who wish to enjoy Christmas-themed afternoon tea with music can go to the hotel's lobby bar. The tea will be offered from 14:00 to 17:00 until Dec 31 at a cost of 688 yuan per set.
The Chi bar featuring tea sets of royal aristocratic brand LOMONOSOV will also provide afternoon tea during the same time period at a cost of 888 yuan per set (champagne included).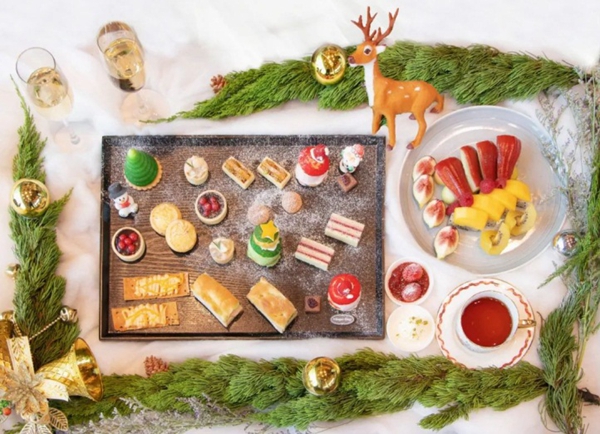 An example of the Christmas-themed afternoon tea offered by the hotel's Chi bar. [Photo/WeChat account: sheshanlvyoutopnews]