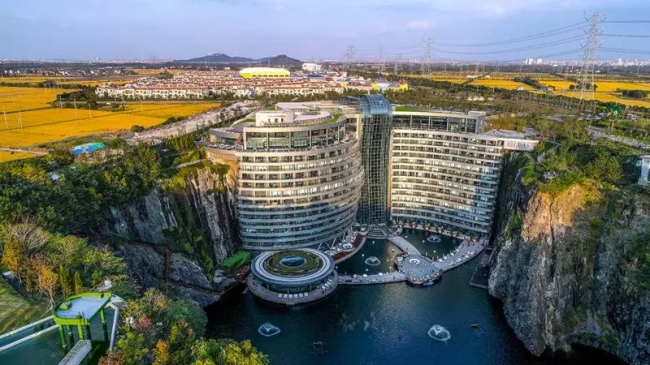 Shimao Wonderland InterContinental Quarry Hotel is being hailed as an architectural marvel. Of its 18 floors, 16 are technically below ground, including two floors underwater. [Photo provided to chinadaily.com.cn]
The long-waited underground hotel was put into operation in Shanghai's Sheshan National Tourist Resort on Nov 20, becoming the first hotel of its kind in the world.
Developed by Hong Kong-listed property developer Shimao Group and managed by InterContinental Hotels Group, the Shimao Wonderland InterContinental Quarry Hotel is built into the side of an 88-metre deep, water-filled quarry.
The eye-popping, luxury hotel stands out as a must-see destination in itself. Built mostly below ground in a deep pit of an abandoned quarry in southwestern Shanghai, it's being hailed as a modern architectural wonder.