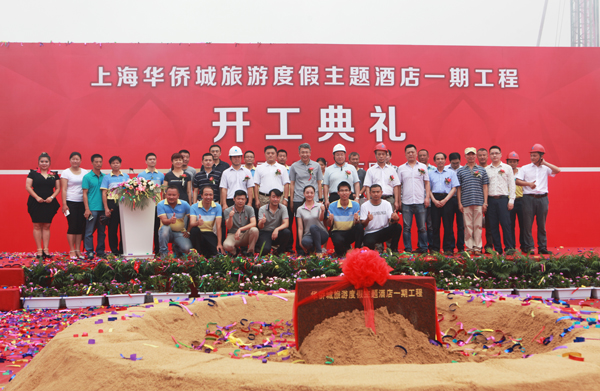 The Shanghai OCT Enterprise Co holds a launch ceremony on July 3 to open the construction of three European-style hotels.
Construction of the first of three European themed hotels got underway on July 3 at Sheshan National Tourist Resort. Carried out by Shanghai OCT Enterprise Co, the first 300-room hotel, built in a Spanish style, is set for completion by the end of 2017.
The 1 billion yuan ($149.55 million) project includes three European style hotels, those styles being Spanish, Scandinavian and German, and will cover an area of 117,000 square meters.
The new hotels are expected to improve the comprehensive service ability of Sheshan National Tourist Resort, and play a big role in building Shanghai into an international tourist city.
Shanghai OCT, a big name in the country's tourism industry, is the developer of Shanghai Happy Valley and the Playa Maya Water Park. The two amusement parks brought in three million visitors in the past year and won the "2015 Shanghai most popular scenic spots" award.
This year, a new round of entertainment upgrading is getting underway. Playa Maya Water Park offers thrills and spills with water rides newly introduced such as the four-slide water turbo drop, and "wars" fought with water guns. Shanghai Happy Valley will be enlivened by about 60 daily performances, adding an audio-visual extravaganza, combining fire, light and shadow to be staged above the 30,000-square-meter lake at the center of Happy Valley. With the most advanced water curtains and fountains, along with music, full color lasers, 3-D-laser imaging, fireworks and other multimedia arts and technology, the show will immerse people in a spectacular sight and sound experience.
According to Shanghai OCT, it will take further advantage of the abundant natural resources of Sheshan National Tourist Resort. It plans to build the best tourist resort complex in East China based on a growing entertainment business of cultural performances, theme parks, and themed hotels.