Asia's biggest with latest in power transmission and control, as well as logistics
Two simultaneous trade fair opening on Monday in Shanghai are expected to attract more than 2,100 exhibitors in the engineering and logistics industries from around the world.
The International Trade Fair for Power Transmission and Control, known in the industry as PTC ASIA, and CeMAT ASIA, which focuses on materials handling, automation and logistics, will run concurrently until Oct 31 at the Shanghai New International Expo Center.
After two decades of development, PTC ASIA is now Asia's largest and the world's second-largest exhibition in the industry.
Though the country's construction machinery industry remained in the doldrums in the first half of 2013, the industry is confident of a turnaround, said organizers, with rising investments in fairs like PTC ASIA.
This year's PTC ASIA covers 100,000 square meters and will highlight the same four sectors as previous years - fluid power transmission, mechanical transmission, bearings and compressed air technology.
The compressed air technology segment has expanded to its own event called ComVac ASIA 2013 this year and covers a record 10,000 sq m. This move echoes the rising position of compressed air and vacuum technology in the industry.
"The new ComVac ASIA also helps ensure that our company will cover more trades in the industry," said Wolfgang Pech, senior vice-president of Deutsche Messe AG, one of the event's organizers.
Mechanical power transmission and fluid power transmission displays have also grown in space and exhibitors, said organizers.
In fluid transmission, major companies such as Bosch Rexroth and HAWE are joined by new participants Parker Hannifin, Huade, Liming, Yuci, Hengli and Taifeng.
German drive engineering specialist SEW will bring its leading new products.
Siemens will display its latest gear motor SIMOGEAR, which matches the company's fully integrated drive system to provide solution for more industries.
Countries and regions with pavilions at the fair of this year include Germany, Italy, the United Kingdom, France, the United States, Turkey, India and Japan.
Many industry associations and organizations will hold conferences, seminars and forums, with trading and purchasing events which are crucial parts to the program.
CeMAT ASIA, growing in scale and influence in Asia over the past 13 years, covers an exhibition area of 37,000 sq m this year and is expected to attract around 480 exhibitors from China and overseas.
One of the highlights this year is a series of outdoor forklift shows, one featuring Jungheinrich, an international material handling equipment company from Germany.
Many industry pioneers from both home and overseas including Vita-Wheel, BYD, Noblielift and Goodsense will also showcase their products. This year CeMAT ASIA has set aside a pavilion exclusively for logistics lifts and elevators.
Forums and trade events will cover a wide range of industries, including machinery, food processing, packaging, retailing and logistics, "appealing to the two greatest demands from the exhibitors and visitors - deep exchange and trade matchmaking", said organizers.
"As the key barometer of the global logistics sector, CeMAT ASIA has been standing at the front line providing outstanding value-added services that are significant for participants to gain insights into the market," said Li Yongrong, manager of Dematic's Chinese marketing communications for the material handling and logistics automation company based in Luxembourg.
Li said that for this year's CeMAT, technology is drawing great attention "as the smart, integrated and efficient operation has become the essence of materials handling and logistics nowadays".
"We are looking forward to achieving win-win cooperation with CeMAT again," Li noted.
xuxiao@chinadaily.com.cn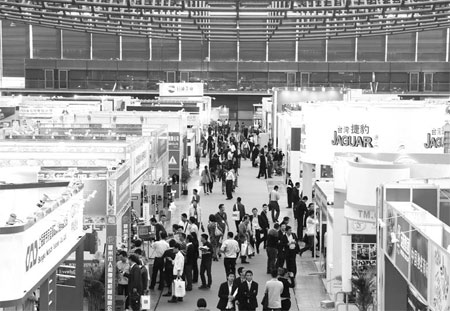 Though there was a downturn in the engineering machinery industry last year, PTC ASIA and CeMAT ASIA still achieved great success. Photos Provided to China Daily