Biotech helps breed virus-free apple seedlings
Updated : 2018-06-29
By Chen Ying (chinadaily.com.cn)
Totally virus-free apple seedlings can now be bred at Shilin Seedling Technology Company in Qixia city, Yantai, East China's Shandong province. The seedlings are bred using tissue culture technology.
The company site includes 2,000 square meters of tissue culture rooms and 7,000 sq m of greenhouses.
Tissue culture technology is the continuous breeding of living organs, cells or tissues in a suitable environment to generate more, and is a bit similar to cloning, said Luo Junjian, director of the tissue culture department.
Tissue cells of an axillary bud can produce 100,000 or even 1 million virus-free apple seedlings using tissue culture technology, added Luo.
Apple seedlings are first bred in the company's self-developed nutrient solution in glass bottles, where seedlings are free from viruses. Then the seedlings are moved to organic soil in greenhouses, followed by seedling-hardening rooms and then an outdoor natural environment.
The apple seedlings are mainly provided to fruit industry cooperatives, and some are sold.
The company can produce enough seedlings to grow 15 million high-quality apple trees each year, with an annual output value of 200 million yuan ($30.22 million), greatly improving the quality of apples and increasing employment opportunities and the incomes of local farmers.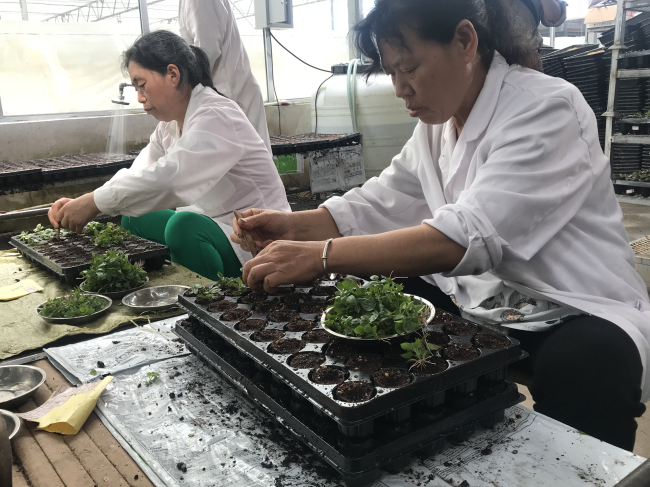 Two workers put newly-bred virus-free apple seedlings in organic soil. [Photo by Chen Ying/chinadaily.com.cn]