First World Senior Tourism Congress opens in Yantai
Updated : 2018-05-25
(chinadaily.com.cn)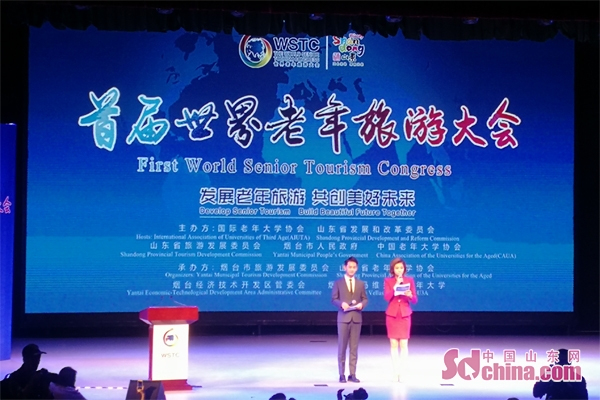 The first World Senior Tourism Congress is held in Yantai, a coastal city in East China's Shandong province on May 24. [Photo provided to chinadaily.com.cn]
The first World Senior Tourism Congress was held in Yantai, a coastal city in East China's Shandong province on May 24.
The event, first of its kind, gathered more than 800 guests from 76 countries, including the heads of international organizations, presidents of universities for the aged, cooking experts, and media agencies.
Zhang Shuping, Party secretary of Yantai, delivered a keynote speech on the opening ceremony.
"The conference will provide an important platform for people across the world to pay more attention to the lives of senior people and learn more about senior tourism."
François Vellas, the president of International Association of University for the Aged, delivered a speech regarding how to promote senior tourism and further improve the lives of seniors.
Themed around "Develop Senior Tourism, Build a Beautiful Future Together", the event is scheduled to host symposiums to promote senior tourism resources and create an international brand for the senior tourism industry.
Three tourism promotion conferences and six grand international exhibitions covering food, wine, books, and Chinese traditional culture will also be held during the seven days.
An important part of the World Senior Tourism Congress, International Senior Tourism Symposium is held where around 400 experts made a discussion on study tours for senior people and released Yantai Declaration.
According to the declaration, Yantai is proposed to be the permanent site of World Senior Tourism Congress. They also plan to establish a World Federation of Senior Tourism based in Yantai city.
Yantai, a renowned historical city in China, is home to rich cultures of wine, marine life and folk customs. The conference will help to expose Yantai and its tourism resources to the world and enhance its international status.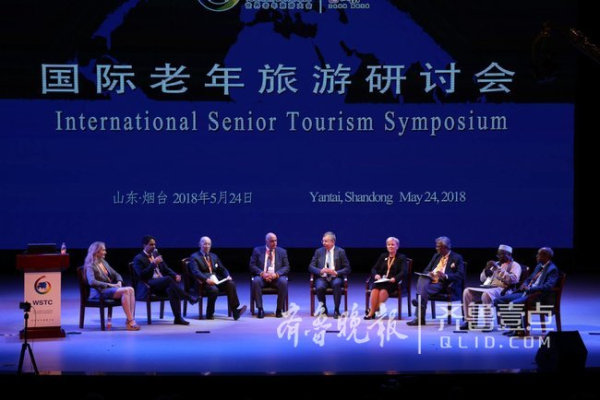 International Senior Tourism Symposium is held on May 24 in Yantai, East China's Shandong province. [Photo provided to chinadaily.com.cn]