Performances staged to celebrate Yantai Grand Theatre's 7th anniversary
To celebrate its seventh anniversary, Yantai Grand Theatre is holding a season of special performances which kicked off on Aug 28 with a performance of the Han opera The Red Detachment of Women.
A total of 17 performances will be held during the three-month season, hoping to attract more people to the dramatic arts with low ticket prices and top-quality shows.
Performances will be varied, and will include Beijing and Kunqu operas, dance, and magic shows.
A highlight of the season will be s tagging of the famous German opera The Magic Flute on Oct 23 and 24. It will be the first time that the theater has used a live band during a performance.
"Though this type of opera is a foreign art form, we believe Yantai citizens will appreciate it none the less," said a spokesperson from the theater. He added that the idea of staging The Magic Flute came from audience demand itself.
Yantai Grand Theatre is seeking to harness the power of its audiences and listen to what they want to type of shows they'd like to see. The audiences preferences will be surveyed and considered when show arrangements are being made.
Fans of the theater can follow its official Wechat account (yantai_grand_theatre), to read news and events as well as leave messages and share their preferences.
For more details about the theater's seventh anniversary season follow its official Wechat account or contact the theater directly on 6605566, or 6608899.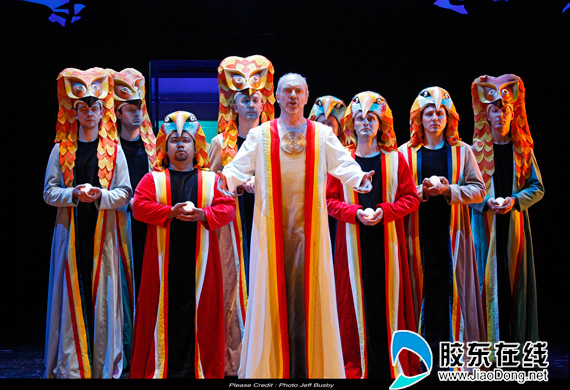 File photo of a performance of The Magic Flute. It will be staged on Oct 23 and 24 as the finale performance of Yantai Grand Theater's the seventh anniversary season. [Photo/ Jiaodong.net]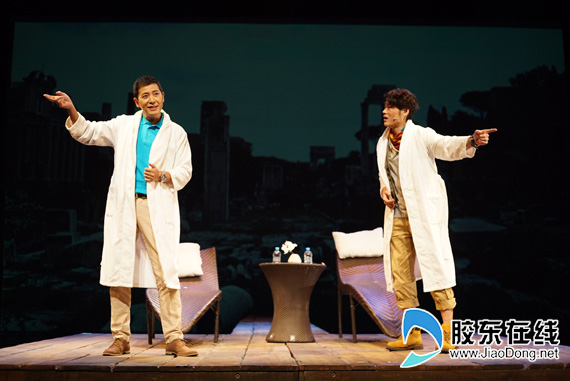 File photo of a performance of drama Crosstalk Travelers, starring by Dai Jun (L), a famous actor, singer and host in China. The drama will be staged on Sept 17 and 18 at Yantai Grand Theatre, as a part of the celebration performances for its seventh anniversary. [Photo/ Jiaodong.net]