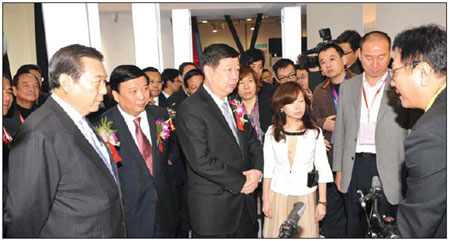 Jiang Yikang (third left), Party secretary of Shandong, and Jiang Daming (second left), governor of Shandong, attending a Taiwan Products Fair, in Jinan last October.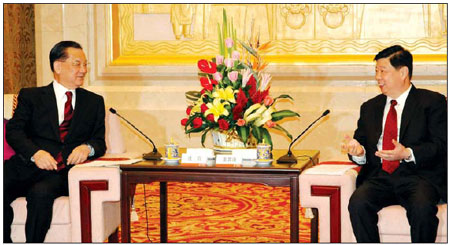 Jiang Yikang (right), Party secretary of Shandong, meeting with Lien Chan, honorary chairman of Taiwan's ruling Kuomintang Party in May last year.
To increase contacts and cooperation with Taiwan, a high-level delegation from Shandong is visiting the island, July 11 to 17.
It consists of 17 mayors and top people in the sciences, education and culture who are looking to stir up some more business, with Jiang Daming, the provincial governor, at its head.
"Cooperation between the two of us is moving into a wider range of fields," Jiang said, referring to trade, tourism, emerging industries, local products, agriculture, and cultural exchanges.
There will be an economic and trade forum at Taipei's World Trade Center on July 12, where Shandong will explain its 12th Five-Year Plan (2011-2015) and describe the opportunities to be found in two national development plans: the Yellow River Delta High Efficiency Ecological Zone and the Shandong Peninsula Economic Zone.
During his seven-day visit, Jiang will meet with officials and businessmen and visit several companies. He has said the focus will be on the following areas of cooperation: Shandong companies will be encouraged to buy more Taiwanese products, especially agricultural products, and Shandong will continue holding a Taiwanese products fair to help Taiwanese companies develop the Shandong market.
The next five years are expected to see Shandong and Taiwan focusing on emerging industries, advanced manufacturing, environmental protection, marine industries, agriculture, and culture-related industries.
In the area of agriculture, a cross-Straits agricultural products center is being built in Qingdao to increase cooperation and to make it easier for Taiwan's produce to reach the growing North China market.
Shandong also wants to develop more tourism routes and souvenir producers to satisfy the demands of Taiwanese tourists.
Another approach to this is the Confucian cultural activities being held regularly for cultural exchanges and increased communication, especially between young people.
(China Daily 07/12/2011 page24)
By Zhao Ruixue (China Daily)
Editor: Chen Zhilin