China's Garlic Town moves toward organic era

Jinxiang, or China's Garlic Town, is now working to move from its previous green garlic and pollution-free garlic production to organic garlic production.

"Organic food is much healthier than green food or pollution-free food," said Zhang Shengming, secretary of the Jinxiang Party Committee.

Supporting 600,000 mu of land for garlic and exporting to over 150 countries and regions in the world, Jinxiang is also considered a barometer of the garlic market for the whole country. As the process of production and manufacturing is not only free from chemical pesticides, fertilizers, and additives, but also free from antibiotics and radiation, organic garlic is much more popular at home and abroad.

"Organic celery costs 40 yuan per kilogram, while the ordinary one costs about 1 yuan or 2 yuan; organic leek costs 25 yuan per kilogram, while the ordinary one costs only 2 yuan, and that is the price advantage for organic vegetables," Zhang said.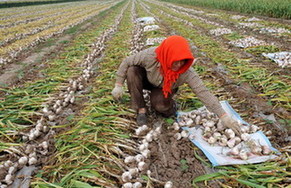 File photo shows a garlic farmer works her land in Jinxiang county of East China's Shandong province on June 1, 2010. The price of fresh garlic has multiplied eleven times from the previous year due to speculation and hype since 2009. The price of fresh garlic rose from 4 yuan for a kilogram to 4.6 yuan and continues to increase as new stock enters the market. Jinxiang county is home of the garlic and is considered a barometer of the market for the whole country. [Photo/Xinhua]