Creative use for hair clippings
( ejilin.gov.cn )
2016-08-02
Snip, snip, sweep. Snip, snip, sweep.
It's the daily rhythm for barber shops and salons around the world, but one stylist in China decided to break up the monotony by turning those discarded locks into art.
Wang Xiaojiu, a 31-year-old stylist from Jilin City in Northeast China's Jilin province, has been creating images of film and cartoon figures out of piles of cut hair after work despite having zero formal art training.
Wang has been a barber for sixteen years, and trimmed locks can be found everywhere at the salon where he works.
"What can we do about them, except sweep them away," the stylist would often tell himself. That is, until the last day of 2015 when his colleagues at the salon were ready to celebrate the New Year and Wang made his first attempt at hair art. He pieced together a figure of "2015" with trimmed locks, leaving his nickname "little 9" (a Chinese homophone for his given name "Xiaojiu") below.
"I thought it was so much fun, and then I began to draw figures," Wang said.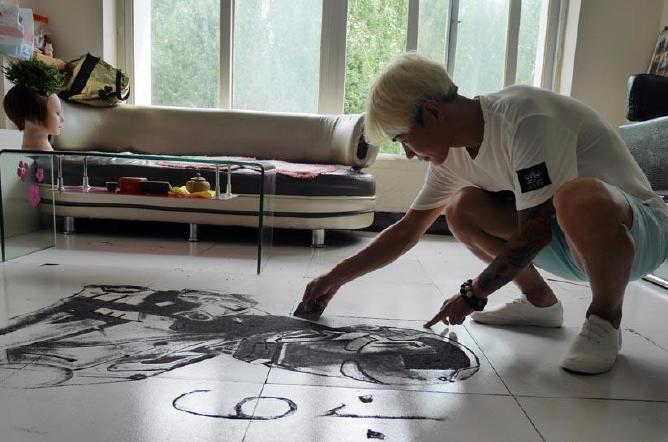 Wang Xiaojiu, a stylist from Jilin City in Northeast China's Jilin province, works on a painting made of hair trimmings. [Photo/xwh.cn]
Popular cartoon and movie figures are the stylist's favorites. He has "painted" Ironman, Wolverine, and Bruce Lee, the Chinese kung fu star. Wang has even made an image of Sakuragi Hanamichi, from the Japanese cartoon series Slam Dunk, on the floor.
Wang's secrete weapons are an ID card and a hair brush which he uses to precisely manipulate the hair on the ground.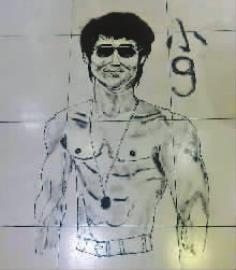 A portrait of Bruce Lee, a Chinese kung- fu star, made of cut hair. [Photo/xwh.cn] 
"Usually I spend two hours to finish one picture, but Wolverine took me three hours, a bit longer and more difficult," added Wang.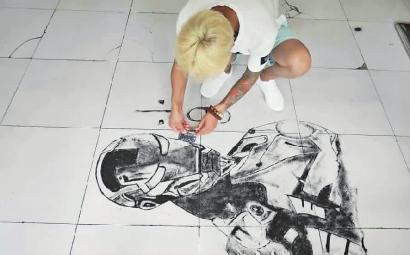 Wang makes an image of Ironman on the floor of his workplace using discarded locks. [Photo/xwh.cn]
Of course, nothing lasts forever, and all of the hair-clipping images Wang has created must be swept away for the next day of business. He takes a quick photo to share on social media before the image disappears into the trashcan.
"When sweeping it away, I do feel hurt," added Wang, with a bittersweet tone to his voice.