"Ma Lan Hua Kai" stages drama in Changchun
( ejilin.gov.cn )
2016-05-05
The city of Changchun, Jilin province provided a venue for the performance of "Ma Lan Hua Kai" the dramatic story of a key contributor to China's nuclear weapons programs, on May 3.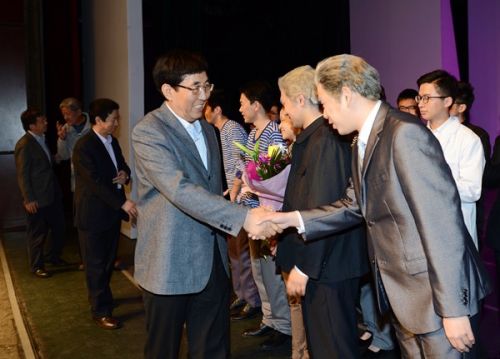 Bayinchaolu, Party secretary of Jilin province greeting performers after the show.[Photo/chinajilin.com.cn]
The drama is a creation of Tsinghua University that has enjoyed immense popularity since its Beijing debut in 2013 and has toured different cities nationwide, and, according to the provincial Party secretary, Bayinchaolu, who spoke after the performance with actors and actresses from Tsinghua, saying that the drama has great innovative and technological significance.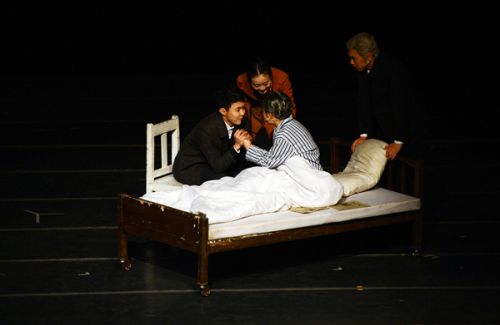 One stage setting. [Photo/chinadaily.com.cn]
Bayinchaolu went on to say, "We need to continue the spirit of these scientists, similar to what Deng Xiaoping said, to seek truth and revitalize Jilin's economy through innovation and technology."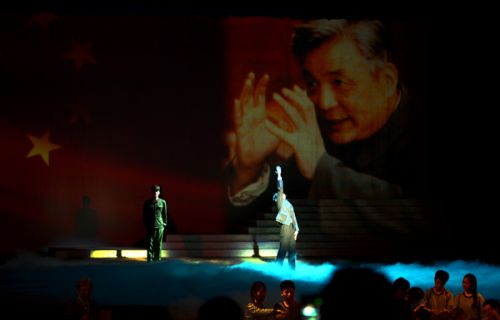 Recalling the deeds of Deng Jiaxian who got a PhD in the US and spent over 20 years developing China's nuclear and hydrogen bombs. [Photo/chinadaily.com.cn]