Wildlife getting better treatment in Jilin
( ejilin.gov.cn )
2016-04-11
Forest rangers in the Changbai Mountain National Nature Reserve, in southeastern Jilin province, have been ensuring a constant food supply for local wildlife.
The area is covered with a thick layer of snow in winter until springtime and it is difficult to forage for food.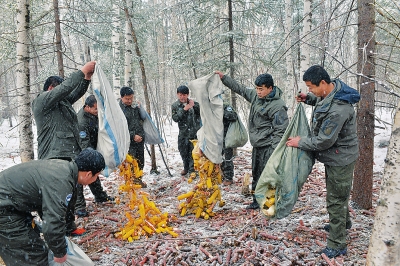 Rangers putting out food at feeding points. [Photo/chinajilin.com.cn]
The reserve administrators spent 750,000 yuan on feeding points for visiting animals and birds, according to one of the staff, who explained further, "Our rangers check these points every two or three days to make sure animals have enough food and often have to carry a heavy load through the thick snow to supply them."
The Changbai Mountain National Nature Reserve is home to many rare types of wildlife, including the Amur leopard, which is considered a unique natural resources.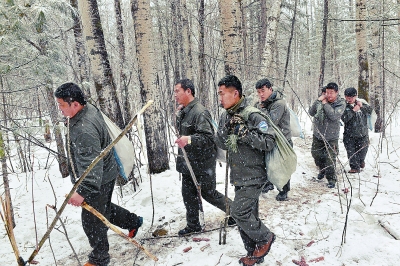 Rangers carrying heavy loads through the forest. [Photo/chinajilin.com.cn]