NE China getting policy support from central government
( ejilin.gov.cn )
2016-03-04
Jilin province and the State Council's National Development and Reform Commission signed a cooperation agreement in Beijing, on March 3.
It is expected to give the province support for its economic revitalization, with the commission coming up with policies that favor aerospace equipment manufacturing, infrastructure in the Songhua River basin, corn sales and storage and the use of power.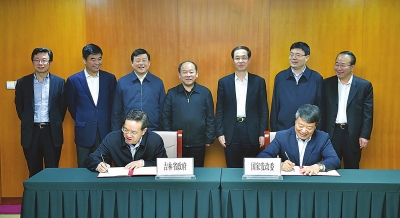 Jiang Chaoliang Jilin governor, at a cooperation agreement signing ceremony with the National Development and Reform Commission, in Beijing, on March 2. [Photo/chinajilin.com.cn]
In commenting on the action, Jiang Chaoliang, Jilin's governor, said in the signing ceremony, "Jilin province does need the government's full support for its revitalization, especially socioeconomic development during the 13th Five-year Plan."
In response, Xu Shaoshi, the commission's director, said positively that the commission will make a great effort to help Jilin revitalize its old industrial bases.