NE China students getting ready for new semester
( ejilin.gov.cn )
2016-03-01
Many primary or middle school students in the city of Changchun, Jilin province found themselves busy over the past weekend preparing for the new semester and flocking to book stores in search of the necessary tools.
Some of the youngsters turned to reading, especially sciences books, while others came with their parents, who hoped that their child could be back on track quickly after a month-long winter vacation.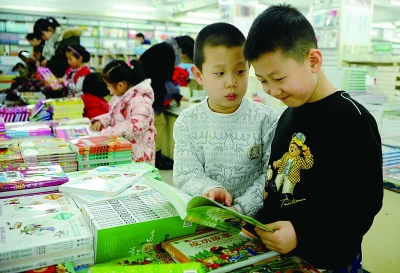 Students going over books at a local bookstore. [Photo/chinajilin.com.cn]
One of these parents, a Ms Chen, who took her son to a bookstore to buy some books needed for the new semester, commented, "I'm a bit worried about my child not adjusting to school life after a long holiday, because he's so absent-minded in his school work."
The stationery section of department stores was also a popular place with the students, with one salesman commenting that the students were often accompanied by their parents who spent a lot on new stationery which brought the store several thousand yuan daily.