NE China 3D bus takes passengers to 'dive under sea'
( ejilin.gov.cn )
2015-09-14
The city of Changchun, Jilin province got something novel, on Sept 13 - its first 3D-painted bus that gives a feel of diving into the sea and coming into close contact with it, according to a local report, on Sept 14, which describes the city's No 229 bus as a vehicle with a "sea tour" theme.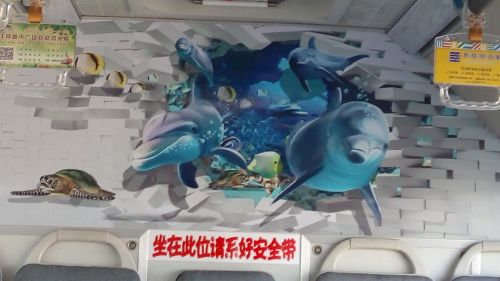 An 3D-painted bus appears in Changchun, Jilin. [Photo by Cui Baofeng/xwh.cn]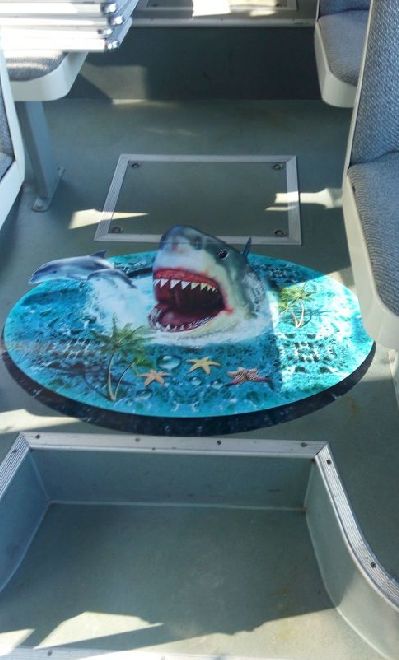 An 3D-painted bus appears in Changchun, Jilin. [Photo by Cui Baofeng/xwh.cn]
The idea for the bus, which belongs to the Beida Co, came from Wang Zhi, an employee who took part in its creation competition not long ago, and who comments, "I've seen 3D buses in other cities and suggested that we have one here," then explains further, "We planned to hand paint but it was too expensive so we used spray paint, designing the figures on paper first then covered the paper to protect it from wear."
The bus, which is also decorated by sea dolls and handicrafts like "dolphins", and "starfish", runs from Yanminghu villa to the lakeside street and stops at Beihuancheng Rd, the Kuancheng traffic dept, Qinglin Rd, Haoyue Rd and West Changyang Rd.
They choose "Sea Tour" as the theme because the color blue and cute creatures might make passengers more relaxed, especially in traffic jams, says Wang.
The work costs 2,000 yuan ($314), according to him.
Mrs Liu, who is one of the first passengers, says, "It's marvelous and I feel like I'm diving into the sea".
"I take the bus to work every day and the decoration makes me feel good on the way", says Zhang Min, a citizen in Changchun.
Some passengers ask the driver for the bus timetable, saying they want to bring their families and friends to enjoy the fun, while the driver, Gu Zhenning, says, "I'm even happier than the passengers working in such a comfortable environment."
The company says it will promote the use of these buses to make the ride more comfortable and enjoyable.