Argentina tests new Chinese subway carriages
( Xinhua )
2015-08-31
Argentina's city of Buenos Aires completed a successful test run for its new Chinese carriages on the A line of its subway system on August 26, the local government announced.
Ten out of 45 carriages, which are provided by CRRC Corporation, China's state-owned rolling stock manufacturer, were tested.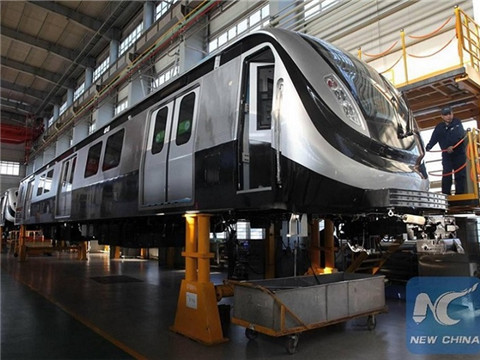 Workers install a subway for export to Brazil in CNR Changchun Railway Vehicles Co., Ltd in Changchun, capital of Northeast China's Jilin province, on December 8, 2014. [Photo by Xing Guangli/Xinhua]
The stainless steel carriages have zero kilometers on the clock and are equipped with air conditioning and security cameras. Each carriage can carry 133 passengers and has a security device that will stop carriages from piling up in case of an accident. "
This test has shown that people approve our work and will lead us to redouble our efforts to improve all the city's subway lines," said Horacio Rodriguez Larreta, the Argentine capital city's mayor.
The A line is the first in Buenos Aires to receive air-conditioned carriages. The line's total passenger flow has increased by 25 percent thanks to various improvements, such as new rolling stocks in stations.