Ji'an's tourism industry takes off
By Song Mengxing Liu Mingtai, and Ding Luyang ( China Daily )
2015-06-25
City's scenery, border with DPRK attracts visitors
For many years, tourism has been a pillar industry in Northeast China's city of Ji'an and has helped boost the ginseng industry, said Chen Xusheng, mayor of Ji'an, on June 15.
The city has 12 scenic spots including Wunyufeng National Forest Park, Yunfeng Lake and Koguryo Historical Site.
Wunyufeng park, also known as five ladies peak park, is 21 kilometers away from downtown Ji'an and covers 6,860 hectares. More than 1,000 plant species grow in the park, which is dotted with bright red maple trees during the autumn.
The most popular part in the park is "Wunyufeng", which refers to five peaks that look like five graceful ladies.
Ji'an launched eight tourist routes, one of which connects the city and Manpo in the Democratic People's Republic of Korea, the mayor said.
China National Tourism Administration selected Ji'an as an "excellent tourism city" in 2004.
"The most competitive edge of the tourism city is its natural environment," Chen said.
In recent years, the city's annual rainfall has been about 920 millimeters on average, which is higher than any other city in Jilin province.
It also has the longest frost-free period, of about 150 days a year, and the minimum wind speed of all cities in the province.
Laoling Mountain Range traverses Ji'an and the city's forest coverage is 83 percent.
"Ji'an is a livable place where people want to settle after visiting it," said Chen.
The city's specialty products include ginseng, grapes, chestnuts and honey because of its favorable climate, fertile soil and plentiful rainfall, according to Chen.
The city is the biggest production center of Amur grapes in China.
Wine companies in the nearby city of Tonghua use the grapes, which are also sold to other manufacturers in different regions, including Changyu Pioneer Wine Co in East China's Shandong province. Tourism in Ji'an is popular due to the province's location on China's border, Chen said.
The city is separated from the DPRK by the Yalu River and a 203.5 km border.
The section of the Yalu River in Ji'an has a wide surface, steady water flow and is surrounded by picturesque landscapes, according to the mayor of the city.
There are seven scenic spots along the river including Yunfeng Lake and an oilseed rape area extending hundreds of hectares.
Travel agencies in the city run one-day tours between Ji'an and Manpo and five-day tours involve Ji'an and Pyongyang, which is 380 km away from Ji'an.
The city plans to build an industrial cluster of cross-border tourism based on visits to the DPRK along with construction of the Ji'an Border Economic Cooperation Zone.
Ji'an also boasts several cultural relics and historic sites from the ancient Koguryo Kingdom (37 BC-AD 668), said Chen.
The city was the capital of Koguryo for 425 years since the year of AD 3.
Chen said the 28th Session of the World Heritage Committee agreed to list capital cities and tombs of the ancient Koguryo Kingdom as a World Heritage Site on July 1, 2004.
Most of the cities and tombs are in Ji'an and they are the 30th UNESCO World Heritage Site in China.
Records showed that Koguryo had two plain cities and 16 mountain cities in Northeast China. One of the plain cities and three of the mountain cities were in Ji'an.
There are nearly 10,000 Koguryo tombs in the city's Donggou ancient tomb area, which has the most tombs of all Chinese tomb complexes.
The area has other Koguryo relics including tablet inscriptions and colorful murals, according to Chen.
Tourism revenue of the city in 2014 hit 2 billion yuan ($322 million), up 28 percent from the previous year. The city now has 12,000 people working in the tourism industry.
It has more than 170 hotels, 45 family inns and 616 restaurants providing customers with specialty dishes including brazier cooked food, Yalu River fish, ginseng products and vegetables from mountainous areas.
Chen said that as the central government and local governments in Jilin now consider tourism as a pillar industry, Ji'an has a golden opportunity to develop its tourism.
He added that the city aimed to become a destination for Northeast Asian ecological culture travel and increase its tourism revenue to 8 billion yuan by the end of 2020.
Ginseng industry development
Ji'an is the main ginseng producing area in Jilin province and is home to 6,660 ginseng farms.
Its annual output of fresh ginseng is about 4,000 metric tons, accounting for one eighth of the total in China.
There are 105 ginseng processing companies in Ji'an and 10 of them have an annual output value of more than 100 million yuan.
Some 6,000 tons of ginseng, 4,000 tons produced in Ji'an and the rest from other regions, are processed in the city and are used mostly to produce medical products.
Ginseng roots, stems, leaves, fruits and flowers are all used to make 543 different products including medicine, food and cosmetics.
The output value of the ginseng industry in Ji'an reached 4.3 billion yuan in 2014, an annual increase of 26.8 percent.
The mayor said they plan to increase the production value to 10 billion yuan by the end of 2020.
Ji'an is in the southeast of Jilin and covers an area of 321,700 hectares.
It has a population of 236,000 and was chosen as a model city for agritourism and rural tourism by the Ministry of Agriculture and China National Tourism Administration in December 2011.
Local officials in Ji'an said they would insist on eco-friendly economic development, afforest downtown Ji'an and villages under the city and protect rivers.
They vowed to continue to crackdown on those who damage plants, cut down trees in forests to plant ginseng and illegally catch fish to better protect the environment and make Ji'an an appealing place to more visitors.
Contact the writers at liumingtai@chinadaily.com.cn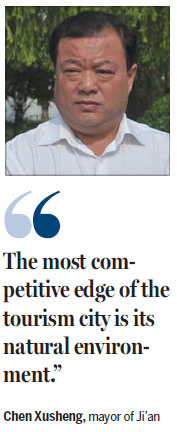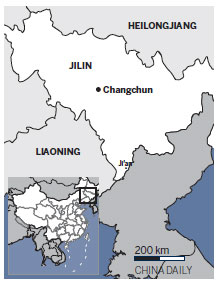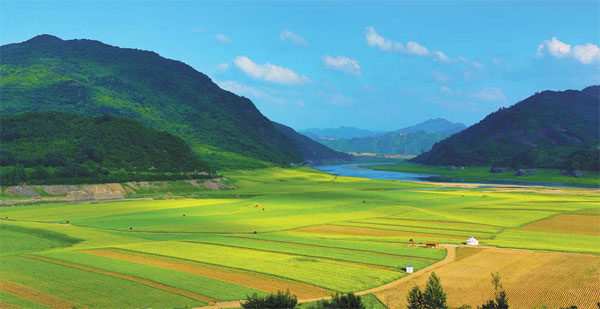 Ji'an's border scenery. The city launched eight tourist routes, one of which connects the city to Manpo in the Democratic People's Republic of Korea. [Photo provided to China Daily]

Rapeseed scenic spot in Ji'an   Ji'an Tourism Development Group Co invested in and built a scenic spot that extends hundreds of hectares along the Yalu River. The area where visitors can sightsee, enjoy meals and stay the night is in Liangshui Korean autonomous township and Yulin town in the city. The area is 47 kilometers west of downtown Ji'an and 24 km to the east of Gumaling Bridge. It is adjacent to Kuandian Manchu autonomous county in the city of Dandong in Liaoning province. The Yalu River separates it from the Democratic People's Republic of Korea. The best time to see the rapeseed in bloom is from the end of June to mid July. This year, Ji'an Tourism Development invested 5.88 million yuan ($963,934) to improve the scenic spot's infrastructure. A small bridge, some pavilions and recreation facilities, including swings, were built at the tourist destination. [Photo provided to China Daily]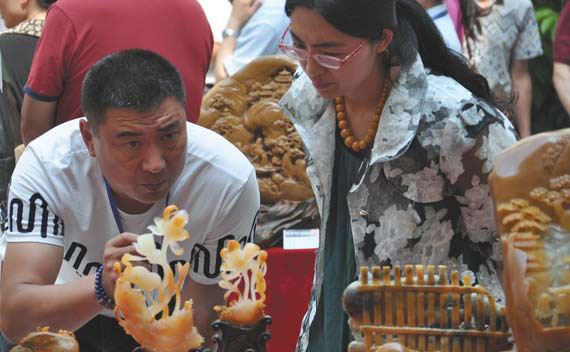 Jade festival lures visitors  The first China Ji'an (the Yalu River) International Jade Culture Arts Festival was held from June 12 to 22. Two hundred and eighty exhibitors from Jilin, Liaoning, Shandong, and Hebei participated in the 11-day event. In total, 37,000 jade items were displayed in 200 booths. The festival used jade to publicize Ji'an and boost the city's tourism. [Photo by Ding luyang / China Daily]