Border tours to DPRK in NE China
( ejilin.gov.cn )
2015-06-19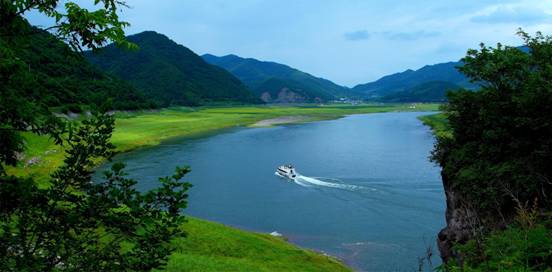 Landscape around the city of Ji'an, Jilin province [Photo/ China Daily]
The city of Ji'an, in southern Jilin province, has opened a one-day tour to neighboring Democratic People's Republic of Korea (DPRK), as of June 11.
The city has rail and highway connections to DPRK, and is a major port with the country, attracting millions of people to the city to join the border tour each year.
The city itself shares a 203-kilometer border and has been giving DPRK tours since 1992, with a number of choices, such as three-day, four-day and eight-day. More recently it has built 200 more tourist spots and has an AAAA scenic area that contains Goguryeo dynasty relics that date back 1,400 years, the Goguryeo royal garden, Mount Wunv National Forest Park, the Yunfeng Lake district, rapeseed fields, a frontier railway bridge over the Yalu River, boating on the Renao River, and a Taiji Harbor international resort.
The one-day tour to DPRK leaves at 8:00 in the morning and returns to the city at 5:40 pm, giving tourists a look at the capital, Pyongyang, Kim Il-sung's headquarters, local farms and tourist spots, and some tasty Korean food.