Jilin Party chief joined local kids for Children's Day celebration
( ejilin.gov.cn )
2015-06-01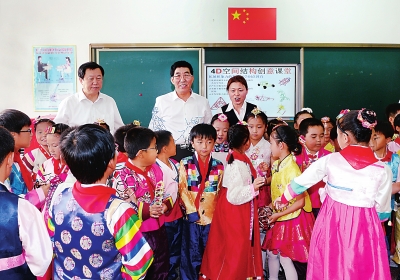 Pupils in Yanji are celebrating International Children's Day with Bayinchaolu, Jilin provincial Party secretary, on May 29. [Photo by Song Kai/ chinajilin.com.cn]
A variety of activities were held in Jilin province, to celebrate the June 1 International Children's Day, and give local children a sense of belonging, with Bayinchaolu, provincial Party head, on hand to join the fun with the kids, on May 29.
Bayinchaolu paid a visit to the Liuyi Kindergarten School in the city of Yanji to extend festival greetings, at a time when the kids were celebrating and enjoying themselves with different events, some reading books in a book bar, so, he joined the reading group and explained the benefits of reading. Another group were having a dance rehearsal, after already having gained the nation's attention in April by appearing in a show on China's main TV station CCTV. Still other kids were playing games and making items, and Bayinchaolu joined them to make some cake and desserts then had a taste.
After that, he visited the Jiangong Primary School, a Korean-Chinese school for the ethnic group founded in 1943, in Yanji city, with a bilingual program, and visited the campus culture wall and the school football culture exhibition, and watched a live football match. In one robotics class, the children were using robots that they had programmed for a table tennis game and, in a 4D space innovation class, children gave their productions, such as rocket model, to the Party chief as a gift and spoke about their thoughts of becoming scientists in the future.