Youthful volunteers lend a hand in Nepal
( ejilin.gov.cn )
2015-05-19
As volunteers from all over the world continue to head to Nepal to join the earthquake relief effort, a rescue team from the city of Changchun, in Jilin province, got involved at their own expense, under the leadership of 27-year-old Ren Hongjun, on a four-day mission in the quake-stricken area, with the help of a local translator, May 4 - 7.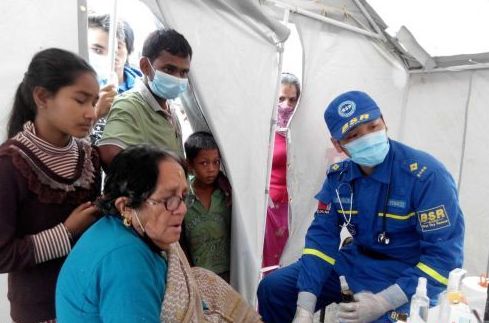 Ren Hongjun is doing health check for the earthquake victims of Nepal. [Photo provided to China Daily]
Ren, as the head of Changchun's Blue Sky Rescue Team, a volunteer organization founded by outdoor enthusiasts in 2007, pulled together seven more experienced people from different cities, including a medical worker, businessman, clerk, and PhD student, who then flew to Kathmandu, capital of Nepal, on May 3, which was hit by a magnitude-4 aftershock just as they arrived.
Ren says that their main tasks were to prevent epidemic diseases and gather information and that they organized the work entirely themselves by pooling resources to set up aid facilities and an aerial drone, and that he himself spent over 10,000 yuan ($1,700) on disaster relief.
On May 4 and 5 they finished their rescue task in a mountain village where all roads in and out were blocked by the quake, so no aid team had entered it yet. One villager walked to the capital to seek help and Ren's team took charge of the task, spending four hours getting into the village. They saw that all the houses had collapsed leaving 89 households homeless and immediately set about distributing medicines and medical equipment then worked on disease prevention, aid, and search for people buried in the disaster.
After taking care of all of the wounded, they headed to the next village and when they arrived on May 6, they found that a rescue team sent by Chinese government already there. So Ren's team collected seismic information and hurried on to the next spot.
The final day they gave medical aid in another city and Ren said the disaster areas were short of food and drinking water but most of their own food supplies from China were ship biscuits and energy bars. He says he had lost 4.5 kg by the time they returned home on May 8 and went back to work. Ren encourages more professionals to join their team and said that he felt it was well worth the time and money.
Blue Sky Rescue has organized three international aid trips now, including the Philippines and Burma.