DPRK students celebrate Day of the Sun in Jilin
( ejilin.gov.cn )
2015-04-21
A group of female students and workers from the Democratic People's Republic of Korea (DPRK) chose to celebrate the anniversary of the birth of their country's founder, Kim Il Sung, known as "The Day of the Sun", in the city of Jilin, Jilin province, on April 15.
They began with a visit to Beishan Park.The Korean visitors wore colorful traditional clothing and were able to appreciate the early spring scenery of the park and caught the attention of some passersby.
They then paid a visit to the province's Yuwen middle school where Kim Il Sung was a student(1927-30) and a Kim Il Sung memorial palace and his residence as a way to respect their former leader.
In DPRK, people on this day will wear the special clothing, especially women, and congregate at landmarks across the country for mass dance.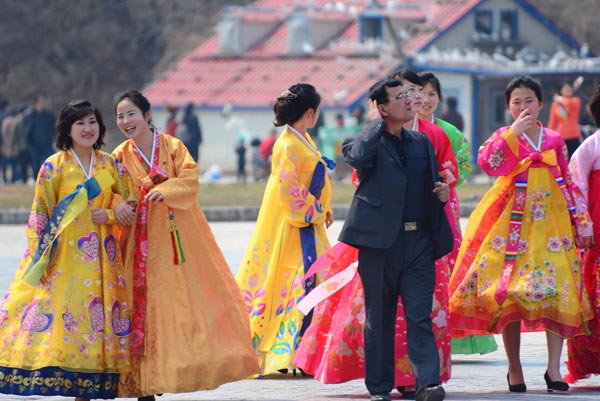 DPRK students in traditional costumes at Beishan Park, in Jilin, on April 15. [Photo by Chinesenews.com]