CNR, CSR to go global as a 'combined fleet'
( english.gov.cn )
2015-04-13
Premier Li Keqiang visited a plant of China CNR Corporation Limited in Changchun, Jilin province, on April 10.
"You are our super salesman. We all see you as a member of CNR," the head of the plant told the Premier.
Premier Li said that the key for the company is to ensure good quality and good after-sales service. "I support Chinese equipment and I hope you will support our country and create a lasting gold brand," he said.
He also had the opportunity to experience starting a train, and the real-time simulation operation of a train through a network control system.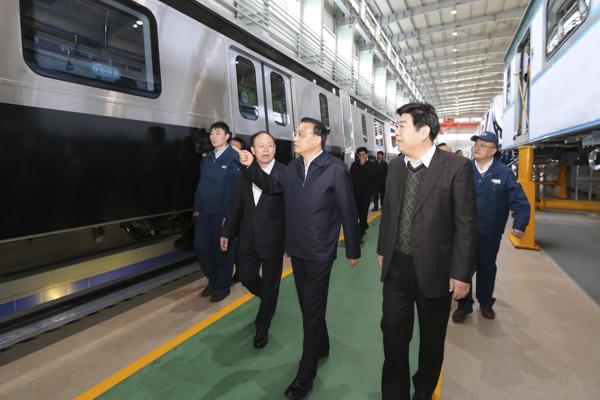 "The Premier is so knowledgeable," the engineer later said.
Holding placards reading "Thank you, super salesman" at a workshop, workers at China CNR Corporation's Changchun Railway Vehicles made their way through the crowd to shake hands with Premier Li.
The Premier told the workers that, as Chinese equipment enters the global market, they should learn the essential technologies by heart and conform to the highest standards — so as to ensure the quality of the equipment.
Premier Li said he hopes that the country's two largest train makers, CNR and CSR, will work as a "combined fleet"after their merger to explore overseas markets and build a world-class equipment manufacturing enterprise.
The "fleet" will consist of train production and other supporting industries, and this requires all parties to work together and compete in an organized manner, he also said.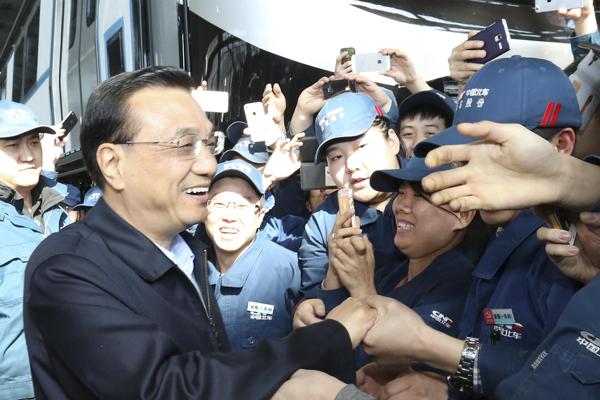 Li added that the corporation will not only carry the responsibilities of an enterprise, but also that of a nation, and it should "win honor"for Chinese products.