Green approach to Tomb-Sweeping Day in NE China
( ejilin.gov.cn )
2015-03-30
With green ideas and initiatives growing in popularity, people in China's Jilin province are looking for more environmentally friendly ways to pay tribute to their ancestors for this year's Tomb-Sweeping Day.
For example, a man named Li in the city of Changchun, who says, "In the past I would burn fake paper money for my deceased parents on this special occasion," referring to the fact that many Chinese believe that burning fake cash will make their ancestors prosperous in the spirit world.
Now, however, this comes in conflict with the move toward environment protection because of the ashes.
Li then goes on to say that this year he joined many others in bringing a floral bouquet to the city's Nahu park on March 29 and, "I personally like flowers as a tribute to my parents, since they are much cleaner and good for the environment."
China Daily reported that more than 1,000 tons of yellow paper have been burned each year on Tomb-Sweeping Day, which goes back more than 2,000 years, according to the China Consumers Association.
The paper also reported that all that fake money and other sacrificial offerings in China on Memorial Day cost about 10 billion yuan ($1.5 billion), in 2011.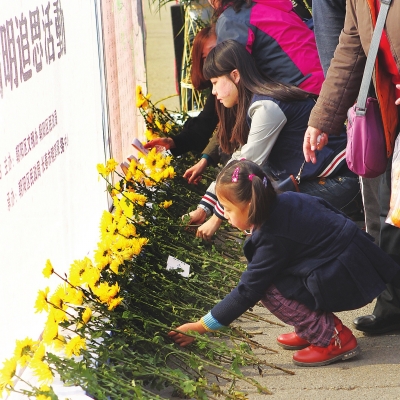 People putting flowers and notes to pay tribute to passed-away family members, in Changchun's Nanhu park, on March 29. [Photo by Ding Yan/chinajilin.com.cn]
So, Changchun is promoting the collective memorial approach and its civic affairs department hopes it will become the new social norm as more people get on board.
In commenting on this, Wan Jianzhong, a Beijing Normal University professor, says, "In spite of the changes of formality in tomb-sweeping, the core spirit of expressing our tribute to ancestors should remain the same and be long-lasting."