Northeast China city embraces the cold weather with free congee
Xu routinely enjoys the Laba festival each year, on the 8th day of the 12th month of the lunar calendar, with a big pot of congee for her husband and family, but this year, the 54-year old woman was invited to join others in the city of Yanji, Jilin province to celebrate the day together, on Jan 26.
And the Xu's were joined by many other older people and some children whose parents are out of town in cooking the porridge together to share the feast, with Xu remarking over a steaming bowl of congee, "I'm really happy to spend the day with so many old neighbors and kids."
During this festival, other Chinese usually do the same as Xu and will use the standard rice, along with peanuts, green beans, red beans, lotus seeds, and garlic cloves for the traditional dish.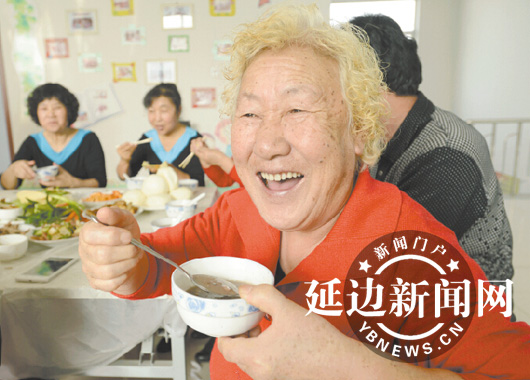 Mrs Xu enjoying herself with a bowl of congee and neighbors. [Photo by Xu Dongxu/YBNEWS.CN]
At Xu's gathering, one resident taught an attentive group of kids how to make prickled garlic by peeling a few cloves of garlic and putting them in a mixture of vinegar and sugar.
She also gave them a dose of folk medicine by saying "One or two a day will keep the doctor away." One newcomer, 6-year-old Rui, whose parents are working far from the city, had no idea what the festival was all about since her grandpa had never explained it, but she joyfully concluded, "The congee is yummy."
Culture info:
This traditional festival is one of China's most important and a prelude to the Lunar New Year, so, of course, there's an old saying that goes, "After Laba it's time for the New Year."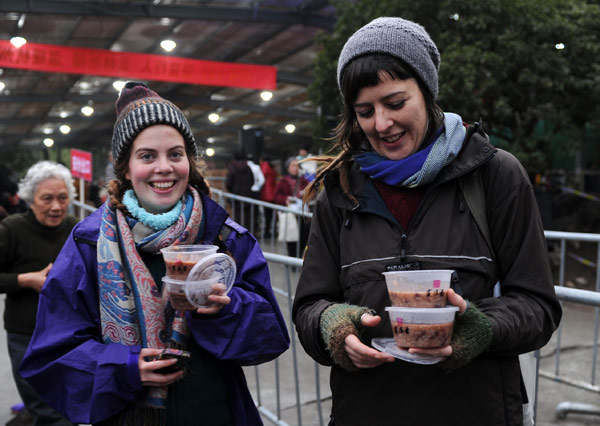 British girls getting bowls of free porridge at Hangzhou Lingyin Temple in this file photo dated to January 8, 2014.[Photo by Ju Huanzong/Xinhua]
Originally, it was intended as a day to give thanks for a good harvest and to sacrifice to ancestors. It also marks the day in which Sakyauni or Buddha, achieved enlightenment and became immortal.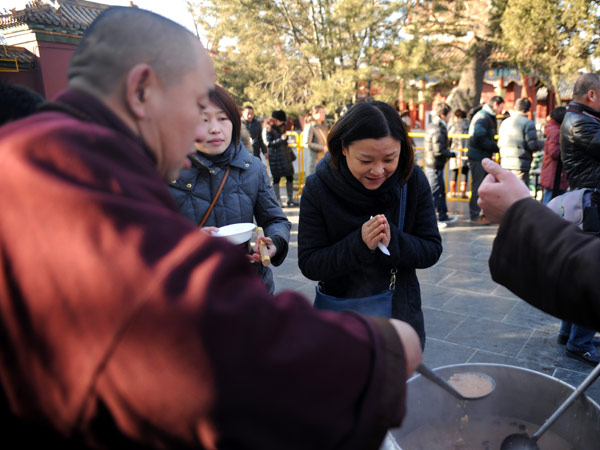 Hoping for a good year, getting a bowl of free congee, Beijing's Lama Temple in this file photo dated to January 8, 2014.[Photo/asiannewsphoto]
What's to eat?
Laba congee: Chinese celebrate the Laba festival with a porridge made of eight ingredients, or the "eight treasures", which invariably include rice, peanuts, green beans, red beans and lotus seeds.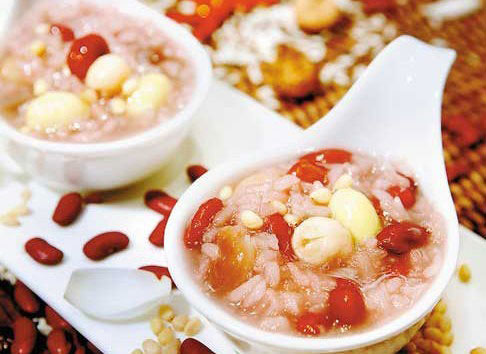 Laba congee [Photo/China Daily]
Garlic: Laba garlic is popular in northern China. Cloves of garlic are put in vinegar and left to marinate in a cool place. Tradition has it that garlic pickled during the festival will turn green.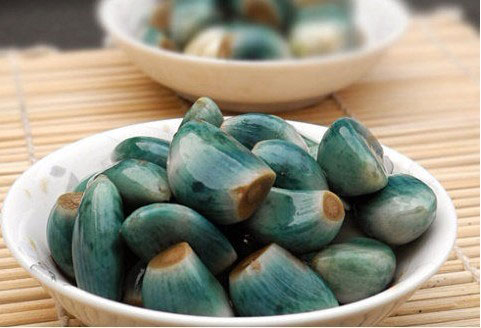 Laba garlic[Photo/China Daily]