Jilin: the clay that becomes a vase
By Wang Zhen
2014-11-21
At a factory in the city of Jilin, Jilin province, some workers removed 62 bright, shiny, delicate recently-fired vases from the oven, on Nov 17, and put them on display, some people standing nearby cheered, suddenly making the works of art the focus of attention.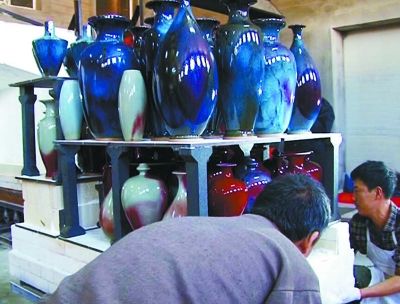 Workers removing porcelain vases from a kiln in Jilin, on Nov 17. [Photo provided to ejilin.gov.cn]
These pretty objects, made from local clay, were just a few of the varieties of porcelain vases that the factory produces, some in various shades of blue others in dark red. But these were the first works of this kind for the factory to produce.
One worker explained, "We basically borrow Henan's Jun porcelain firing technique, which usually only results in a 30-percent success rate. But this time all the final products were a success thanks to the local clay."
Experts had said very early that the plasticity of Jilin clay makes it useful for both industrial and artistic porcelain, giving it a high value. The city of Jilin has an abundance of this clay, around 500 million tons, and it has largely been used just for massive porcelain jobs a low price, or as one local official explained, "Our clay was sold to Jingdezhen, China's 'porcelain capital, at a discounted price. Now we need to pay much attention to clay development."
So, the local government has been considering profitability and adding value to that ball of clay and is working on a ceramics production chain to make their own products and, when the city hosted a meeting of the China Ceramics Industrial Association in September, people spoke highly of the local products.
In fact, Jilin's ceramic and pottery production can be traced back to the New Stone Age (4,500 to 2,000 BC) based on archaeological discoveries, so the area is not unfamiliar with the clay product. And, the technology matured as far back as the early Qing Dynasty(1644-1911).