International ski race to exhilarate Changchun
By Wang Zhen ( ejilin.gov.cn )
2014-11-20
Changchun's Jingyuetan International Vasaloppet Ski Festival will kick off in December in the capital city of Jilin province after the city's entry into an internationally recognized Worldoppet Ski Federation in Italy in June.
Founded in Uppsala, Sweden in 1978, the worldoppet contributes to promote cross-country skiing through a series of races among member states around the world.
China is the 20th country to hold the event following Austria, Italy, Germany, France, Norway to name but a few, and is the second country in Asia to be able to join the series of races.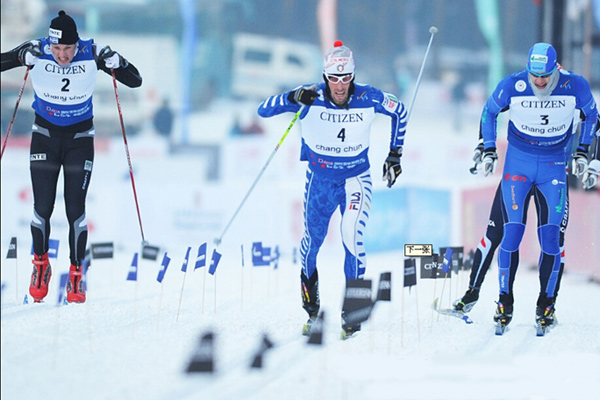 Athletes take to cross-country skiing at Jingyue Lake, a scenic spot in Changchun. [Photo provided to ejilin.gov.cn]
In commenting on Changchun's holding of the up-coming international event, one of the officials from the organizing committee said, "It's a good opportunity for Changchun and we have been waiting for this for 13 years."
The official went on to say, "We are getting well-prepared for the event and other related activities."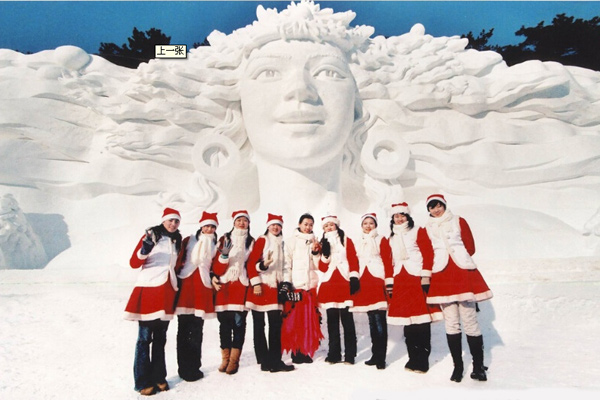 Volunteers pose for a group photo in front of the snow sculpture.[Photo provided to ejilin.gov.cn]
As an annual event since 2003 in one of Changchun's top scenic spots, the competition has attracted thousands of participants from more than 20 countries.
The number of contestants in the Jingyuetan Vasolppet is forever increasing, according to a survey done by the organising committee, from 700 in 2003 to around 20,000 in 2009.
"This year, we are expecting more players and tourists to join us," the official added.
According to the published program, the whole event, as a winter carnival, will be held in Changchun from 2014 Dec 1st to 2015 March 5th with a couple of races and a series of activities.