The 12th Changchun China Film Festival
( ejilin.gov.cn )
2014-10-31
With the theme of "inherit traditions, gather powers and realize dreams of Chinese movies", the 12th Changchun China Film Festival opened on Aug 24.
All the nine judges of the festival were invited to the opening ceremony, with famous Chinese director Huang Jianxin taking the lead. The other eight were Luan Guozhi, Wang Liguang, Jing Yng-Ruey, Yan Ni, Lu Wei, Wu Dejin, Zhao Xiaoshi and Leon Lai Ming.
On behalf of all the judges, Huang made a commitment to fairness, to guarantee professionalism and the authority of the Jinlu Award.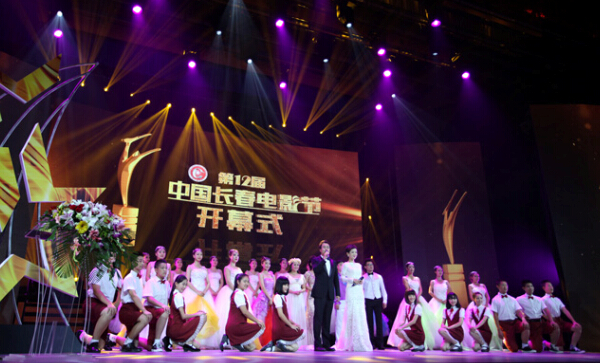 The opening ceremony of the 12th Changchun China Film Festival on Aug 24, 2014. [Photo provided to ejilin.gov.cn]
In the art performances at the opening ceremony, a student choir from Changchun Foreign Language School sang Let's Sway Twin Oars from Bud of Motherland, a classic movie made by Changchun Film Studio in 1955.
Generations of Chinese filmmakers and actors shared their memories, emotions and wishes through the large screen at the ceremony. There were also short clips to honor late filmmakers Wu Tianming and Run Run Shaw.
The ceremony ended with the festival's theme song Marching to Glory.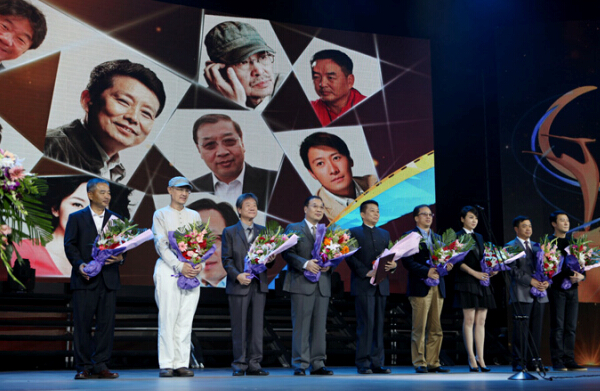 Guests pose for a group photo at the opening ceremony of this year's Changchun China Film Festival on Aug 24. [Photo provided to ejilin.gov.cn]
The Changchun China Film Festival is an international movie competition approved by the State Council and recognized by the International Federation of Film Producers Associations.
The festival is organized by The State Administration of Press, Publication, Radio, Film and Television, the provincial government of Jilin and the government of Changchun city.
The award list:
Best Feature Film: American Dreams in China
Best Director: Peter Chan (American Dreams in China)
Best Actor: Huang Xiaoming (American Dreams in China)
Best Actress: Gong Li (Coming Home)
Best Supporting Actor: Tong Dawei (American Dreams in China)
Best Supporting Actress: Sonam Dolgar (Phurbu & Tenzin)
Best Cinematography: Christopher Doyle (American Dreams in China)
Best Visual Effects: Young Detective Dee: Rise of the Sea Dragon
Best Screenplay: Diao Yinan (Black Coal, Thin Ice)
Best Music: Nicolas Errera (The White Storm)
Best New Director: Chen Sicheng (Beijing Love Story)
Award for Chinese Film Art Achievement: Wu Siyuan and Li Xuejian
Jury's Special Honor: Black Coal, Thin Ice and Cableway Doctor