Wangtian'e scenic spot
The Wangtian'e scenic spot, formerly known as the Shiwudaogou, is 60 kilometers away from the Changbai Korean autonomous county. It's a national AAA tourist attraction, a national forest park, a national natural reserve upstream of the Yalu River and a provincial geological park. The scenic spot is now applying to be a national geological park in the Changbai Mountains.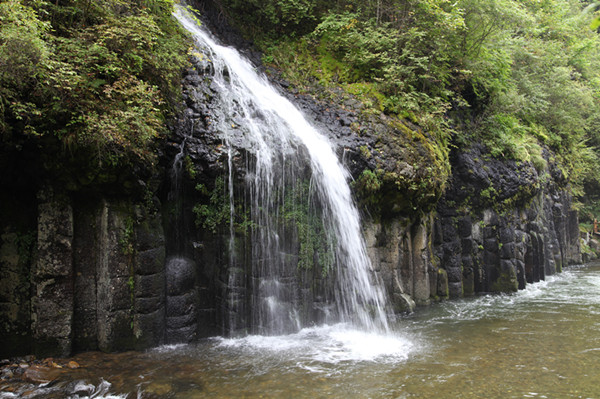 The scenic spot is located in Wangtian'e Canyon and runs 38 kilometers, with the lowest point 450 meters above sea level and the highest 1,100 meters above. Wangtian'e Mountain is 2,051 meters high and the second highest peak in Northeast China. It is 32 kilometers from Tianchi.
The scenic spot is famous for its primitive ecology, melodious birds, fragrant flowers, jumping fish, croaking frogs, cascading waterfalls and grotesque stones. It has become an ideal place for tourism and scientific activities, attracting many visitors from China and abroad.
Wangtian'e Mountain resembles a swan eager to take flight. The main peak is surrounded by grotesque stones and ancient trees, and looks good against the snow-white peak of the Changbai Mountains.
Experts said that Wangtian'e Canyon's forestry is worth 500 million yuan. It is home to more than 3,600 varieties of wild plants and more than 500 wild animals. It has been called a natural tourism park and a green treasury.