Family devoted to TCM development in Zhangjiagang
( chinadaily.com.cn )
Updated: 2020-03-20
| | | | | | | | | |
| --- | --- | --- | --- | --- | --- | --- | --- | --- |
|   | | Print | | Mail | | Large Medium  Small | | 0 |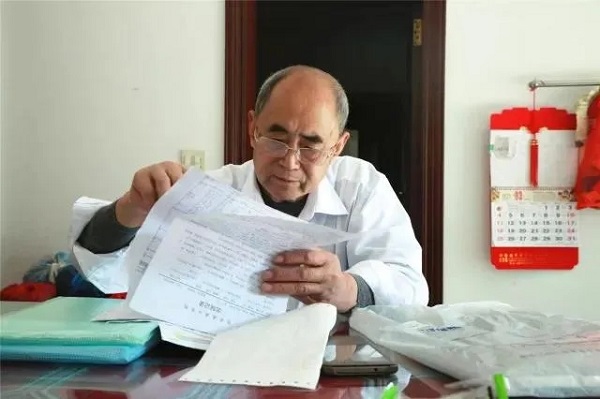 Miao Nanxing reads medical records at his office in Zhangjiagang. [Photo/WeChat account: zjgcitynews]
Miao Nanxing is a doctor of Traditional Chinese Medicine (TCM) in Fenghuang town, Zhangjiagang, East China's Jiangsu province.
The 78-year-old has devoted his life to the development of his family's TCM skills, which date back more than 400 years and were listed as an intangible cultural heritage in the city in 2015.
The first doctor in the family was Miao Xiyong (1545-1627) who lived during the Ming Dynasty (1368-1644). He was one of the most prestige doctors in Zhangjiagang during his time.
His masterpiece Shen Nong Ben Cao Jing Shu (Shennong's Classic of Materia Medica) was on par with Ben Cao Gang Mu (the Compendium of Materia Medica), the best-known and revered Chinese medical manual written by the eminent Chinese pharmacologist Li Shizhen in the Ming Dynasty.
The work was also included in the Si Ku Quan Shu (also known as Complete Library in the Four Branches of Literature), compiled under the auspices of Emperor Qianlong in the Qing Dynasty (1644-1911).
Another esteemed member of the family was Miao Liucun (1821-1885) of the Qing Dynasty, who is known for curing Chen Yucheng, a leader of the army from the Taiping Heavenly Kingdom (1851-64), and Weng Tonghe, tutor of Emperor Tongzhi and Emperor Guangxu.
Since then, a number of outstanding doctors have been born in the family. The most famous of the contemporary era is Miao Tingjie (1924-2016), former urology surgery professor at the Shanghai Medical College of Fudan University.
He participated in China's first kidney transplant operation in 1975 and published more than 100 papers in domestic and overseas medical journals and over 10 school books throughout his life.
He donated more than 200 painting, calligraphy and cultural relic collections to the Zhangjiagang Museum in 2006. The museum has established a special exhibition hall for the Miaos.
Miao Nanxing is among the 22nd generation of the family and started learning medicine at the age of 18.
Over the past six decades, he has waived or reduced medical charges for numerous patients who were unable to pay. He has also been helping two impoverished students with 4,000 yuan per person each year for the past three decades.
At present, his biggest wish is to receive a national medicine permission number for a capsule developed by the family to strengthen gastric function.
"Once the goal is achieved, I will set up a charity center and travel throughout the 11 provinces and cities my ancestor Miao Xiyong went to in order to help treat impoverished people there," said Miao Nanxing.
Another of Miao's wishes is that his granddaughter can inherit the TCM skills of the family.
"She acquired a master's degree in biomedicine from Imperial College London in 2018 and is carrying out drug research in Shanghai," said Miao Nanxing.
"I'm not opposed to her current career. But I still hope she can come back and carry on the family's tradition," he added.