Help migrant workers become new citizens
( chinadaily.com.cn )
Updated: 2015-11-02
| | | | | | | | | |
| --- | --- | --- | --- | --- | --- | --- | --- | --- |
|   | | Print | | Mail | | Large Medium  Small | | 0 |
Migrant workers are considered by many Chinese cities to be a drain on resources. But that is not the case in Zhangjiagang, Jiangsu province, where the local government launched a points-ranking system to integrate "new citizens" in 2012. Included in the program to turn them into permanent residents is community service.
"We launched the system three years ago, amid a national shortage of labor, to attract more technicians to Zhangjiagang," said Hui Hong, deputy-director of the city's new citizen affairs center and a key architect of the system.
Zhangjiagang also pioneered an electronic system of helping migrant workers, or new citizens as they are known in the city. Scanning a code with a smartphone, workers can look for job vacancies, houses to rent and other crucial information.
"I feel the city is very friendly to us," said Li Shuo, 28, a plumber from Zhangqiu, Shandong province. "Everything is ranked, including such things as medical insurance and education for our children.
"Transparency is the most important thing that makes the scoring system function well," Li added. "I know my score, my position in the rankings and most importantly how I can increase my score. This involves learning new techniques and serving the community."
Zhangjiagang has about 1.6 million residents, half of whom are migrant workers. Since the scoring system was launched, more "new citizens" are deciding to settle in the city.
"We are not short of workers," Wu Huifang, deputy-general manager of Yonggang Group, a steel enterprise in Zhangjiagang that employs about 12,000 migrant workers, said.
New citizens enjoy not only welfare benefits, but also legal rights such as the ability to vote and participate in discussions on public policies.
"That makes true citizens," Wu said.
According to Hui, about 500 migrant workers have moved their permanent residential registrations from their hometowns to Zhangjiagang since the program was launched. More than 10,000 new citizens enjoy medical insurance, and about 26,000 children from migrant families attend schools through the program.
"We will adjust the scoring system to the needs of the people," Hui said. "The new citizens have a stronger desire to send their children to good schools. That's what we are working on in the future."
Tangshi Primary School is the largest for children of new citizens. The government has invested more than 200 million yuan ($31.4 million) in the school since 2012. About 74 percent of its 2,638 students are from migrant families.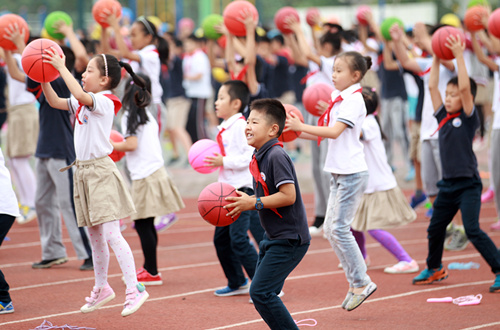 Tangshi Primary School is the largest school for children of newly settled migrant workers, who make more than 70 percent of its total enrollment. The government has invested 200 million yuan ($31.4 million) in the school since 2012. [Photo provided to chinadaily.com.cn]